Proverbs are pearls of wisdom, sometimes coined by famous individuals but more often of anonymous origin. Some proverbs go back to the beginning of humanity itself, and although they sound a bit old sometimes, they always have a practical application in everyday life and can help us deal with complicated situations. 
In general, proverbs tend to transmit popular wisdom in a very concrete way. They often stand out for their irony, their colorful comparisons, and their funny tones and metaphors.
Italian proverbs are an important part of the language, because… 
…Italians use them often in conversations.
…they belong to a shared body of knowledge.
…they typically denote specific cultural traits of the country. 
That last point is especially important, because each culture has its own set of proverbs and idioms. They reflect a particular sense of wisdom, in harmony with the history of each country. Many of these are universal, but there are equally well-known local variations.
In this guide from ItalianPod101.com, you'll learn about some of the most common Italian proverbs, what they mean, and how to use them.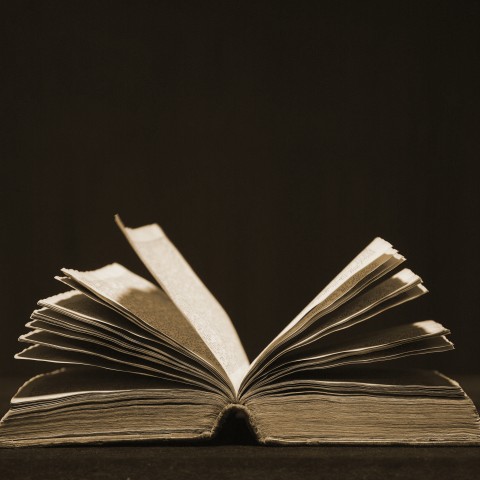 Proverbs = traditional popular culture.
Table of Contents
1. Proverbs About Time
There are a great number of proverbs about time, maybe because our wise ancestors knew how important it is—and how easily we forget about it or even waste it.
#1
Italian

Il mattino ha l'oro in bocca.

Literally

"The morning has gold in its mouth."

Equivalent

The early bird catches the worm.
This is the perfect proverb to begin our guide, since it deals with getting the right start. According to this proverb, if you get up early, you'll get the most out of your day. This proverb also praises the value of acting immediately, and presents a concept well-known since ancient times and in many different cultures.

Another version of the same proverb is: Chi tardi arriva, male alloggia. ("Who arrives late, settles badly.")

And you? What part of the day do you prefer?
#2
Italian

Chi dorme non piglia pesci.

Literally

"Who sleeps does not catch fish."

Equivalent

Don't love sleep, or you will become poor; open your eyes, and you'll have enough to eat.
This well-known Italian proverb of ancient origin is used to warn those lazy ones among us that without work and commitment, it's impossible to get what you want or need. The proverb is therefore a real exhortation to get busy because nothing is achieved without effort.
#3
Italian

Meglio un uovo oggi che una gallina domani.

Equivalent

"Better an egg today than a hen tomorrow." 
This Italian proverb seems to express that it's more convenient to settle for the little certainties of today than to risk losing them.  

In fact, it could have a double interpretation, which is a common characteristic of proverbs. Another meaning could be that of another common proverb: Chi non risica non rosica. ("Who does not take risks doesn't eat.") Both talk about the behavior of prudent people, as well as the behavior of those who are willing to risk a little.
As Aristotle used to say… "Virtue lies in the middle, in the balance of the two opposites."
#4
Italian

La gatta frettolosa fece i gattini ciechi.

Literally

"The hasty cat made the blind kittens."

Equivalent

Haste makes waste.
This proverb emphasizes that everything should be done at the right time and in the best possible way. Haste is always a bad advisor, and even if it gives you the impression of being very productive, it can eventually create some unpleasant situations to solve.

So, beware of multitasking and hyperactivity…!
#5
Italian

Se sono rose, fioriranno.

Literally

"If they are roses, they will bloom."

Equivalent

Time will tell.
This old proverb has a second part that's usually omitted… "if they are thorns, they will sting." But in any case, the meaning is clear: Keep working on a job or a project with faith, because only at the end will you see the results.

And if you want to keep optimistic about it, you can rely on yet another proverb about time: ll tempo è galantuomo. ("Time is a gentleman.") It means that in the end, time will solve every problem, even if you can't see it at the moment.
#6
Italian

Il buongiorno si vede dal mattino.

Literally

"Good morning starts in the morning."

Equivalent

A good beginning makes a good ending.
This proverb reminds us of something we already know: If a day or endeavor has a good start, it's likely to be a success. If it starts well, it will probably end well.

This is also the bottom line of another very common Italian proverb, stating: Chi ben comincia è a metà dell'opera. ("Well begun is half done.") Both proverbs stress the importance of starting con il piede giusto ("with the right foot").
#7
Italian

Meglio tardi che mai.

Equivalent

Better late than never.
This is the perfect proverb for the typical Italian… While it may be an oversimplification, it's partly true that Italians tend to be late. Not all of them, obviously, but arriving a little late to an appointment (especially among friends and family) is accepted—and even almost expected—in Italy. So, if you've been waiting on someone or something for some time, you can use this proverb to express your disappointment with a little irony. 

It's also used in reference to people who finally change a bad behavior or have finally come to understand something:

Finalmente hai lasciato il fidanzato…meglio tardi che mai! ("You finally left your boyfriend…better late than never!")
#8
Italian

Finché c'è vita, c'è speranza.

Equivalent

Where there's life, there's hope.
This proverb comes from a quote by Cicero from more than 2000 years ago. It encourages us not to despair, even in difficult situations. As long as we're alive, we can still make our dreams come true. How wise and optimistic is that?

Another way of saying it is: La speranza è l'ultima a morire. ("Hope is the last to die.")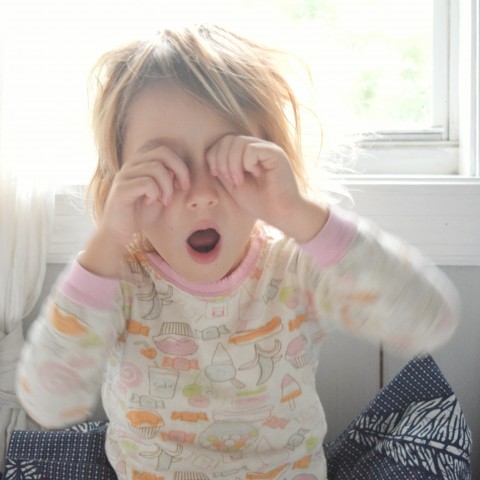 A good morning starts in the morning.
2. Proverbs About Food
Italians love to eat. They eat all the time, and when they're not eating, they're talking about food! It's only natural that there are so many popular Italian proverbs about food and wine.
#9
Italian

Come il cacio sui maccheroni.

Literally

"Like cheese on macaroni."

Equivalent

To be just right for the job.
Cacio—a mixed cheese made of sheep's and cow's milk—is the perfect combination for macaroni, because its strong flavor completes it. So, you can use this proverb when describing something that makes a situation just perfect. 

This proverb must date back to the origin of the short and pierced pasta called macaroni, in the early Middle Ages in Sicily. Even today, this combination of pasta and cacio is present in the well-known Roman cuisine dish called "cacio e pepe."

There's another Italian saying that means the opposite: come i cavoli a merenda ("like cabbage for snacks"). This refers to a combination that just doesn't work.
#10
Italian

Buon vino fa buon sangue.

Literally

"Good wine makes good blood."

Equivalent

An apple a day keeps the doctor away.
Nothing goes better with a pasta dish than a good red wine…but in this proverb, we also find the ancient wisdom that a little (especially red) wine every day makes your whole spirit better. 

If wine isn't your favorite drink, check out our vocabulary list of 20 Drinks to Quench Your Thirst and learn how to say your favorites! 
#11
Italian

O mangiar questa minestra o saltar questa finestra.

Literally

"Either eat this soup or jump out of this window."

Equivalent

Take it or leave it.
Whether it's something we don't like on our dinner plate or any other unpleasant situation, we're often presented with things that we have to accept out of necessity, because there's no alternative.

Interestingly, the Italian term minestra today simply means "soup," but in Ancient Rome, it referred to any food served at the table. This is because the minister was the person who served food during meals (from which we get the verb "to administer"). 
#12
Italian

Non tutte le ciambelle riescono col buco.

Literally

"Not all doughnuts come out with a hole."

Equivalent

You can't win them all.
Even though this proverb talks about the Italian doughnut ciambella, it's not really about food. Rather, it's about the fact that not everything turns out as planned. It also encourages us to be ready for surprises!
#13
Italian

Avere le mani in pasta.

Literally

"Having your hands in the dough."

Equivalent

To have a finger in the pie.
This expression refers to being involved in a situation or project (especially a dubious one), either financially or for personal interests. It has a negative meaning and is normally used to refer to "dirty" business.

It originates from the old times, when several people used to work together with sticky dough while manually making pasta and bread.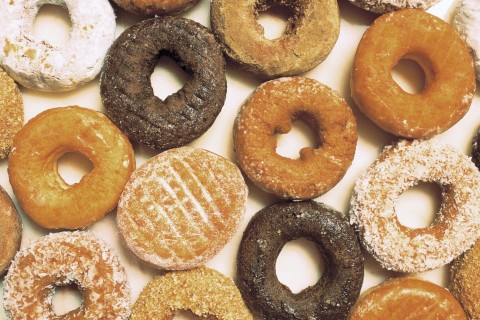 Not all doughnuts come out with a hole.
3. Proverbs with Animals
Why are there so many proverbs with animals? Since the oldest times, animals have helped people, made great companions, and provided food and warmth. For these reasons, it makes sense that they occupy a special place in the long list of Italian proverbs.
#14
Italian

Cane che abbaia non morde.

Literally

"Dog barking does not bite."

Equivalent

His bark is worse than his bite.
We've all met a grumpy person who yells and maybe even threatens us—but who, in the end, is totally harmless. Just like the dog that protects its home or owner by making lots of noise!
#15
Italian

Il lupo perde il pelo ma non il vizio.

Literally

"The wolf sheds its hair but not the vice."

Equivalent

A leopard cannot change its spots.
It's very difficult to get rid of bad habits, right? That's exactly what this old proverb means. In its original Latin version, it talked about a fox rather than a wolf, but the concept remains: a person can work hard to make changes in their life, but still struggle to overcome certain habits.

Mario ha di nuovo cominciato a bere… il lupo perde il pelo ma non il vizio! ("Mario has started drinking again…a leopard cannot change its spots!")
#16
Italian

Quando il gatto non c'è, i topi ballano.

Equivalent

When the cat's away, the mice will play.
There's really no need to explain this proverb, which is common in many different cultures. We all remember when we were kids and our parents were away, right?
#17
Italian

A caval donato non si guarda in bocca.

Equivalent

Look not a gift horse in the mouth.
This proverb has to do with good manners and graciousness: If you receive a gift, do not make a fuss about its value. 

It comes from not-so-ancient times when, before buying a horse, people would look into the animal's mouth to determine its age and its health condition from the teeth. But remember not to do that if the horse was a gift, okay?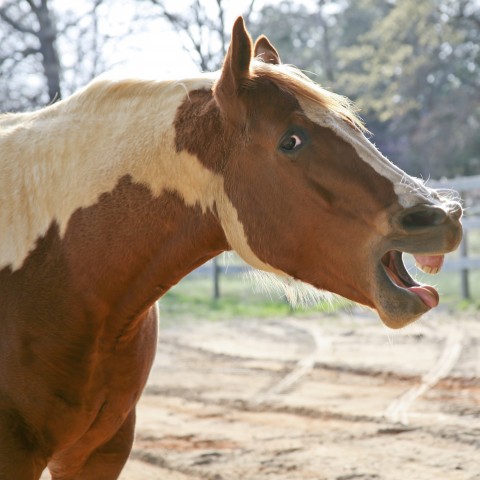 Gift or no gift…he doesn't want you to look inside his mouth!
4. Proverbs About Love and Family
Because family and relationships are such fundamental aspects of the Italian lifestyle, there's no shortage of love and family proverbs in Italian. Here are a few of the most common ones. 
#18
Italian

I panni sporchi si lavano in famiglia.

Literally

"Dirty clothes are washed within the family." 

Equivalent

Do not wash your dirty linen in public.
Dirty clothes, thanks to this popular proverb, have become synonymous with delicate and private matters. 

It's better to solve delicate matters inside the circle of those who are directly concerned. Only those who are close, like members of the same family, can understand the facts and situations that those on the outside may misinterpret.
#19
Italian

Moglie e buoi dei paesi tuoi.

Literally

"Wives and oxen of your country." 
This is a really dated proverb—way before globalization, Erasmus, and all the traveling we do today. It basically suggests that, like in agriculture, it's better to stick to local "breed" in relationships and not marry (or breed) foreigners.

Of course, it's painfully politically incorrect today, especially because it only refers to mogli ("wives") and it compares them to animals…but oh well, you got the point. After all, it's just saying that cultural differences in a relationship will come back to haunt you in the long run! 
#20
Italian

Chi si assomiglia si piglia.

Literally

"Who looks alike chooses each other."

Equivalent

Birds of a feather flock together.
People tend to relate to others who have similar personalities, lifestyles, and tastes as they do. For this reason, we find it easier to establish relationships with people who are similar to us. 

Another related proverb says: Dimmi con chi vai e ti dirò chi sei. ("Tell me who you go with and I'll tell you who you are.")
#21
Italian

Tra moglie e marito non ci mettere il dito.

Literally

"Between wife and husband don't put a finger."

Equivalent

Don't go between the tree and the bark.
You should not get involved in family affairs that are not your own, because the problems of the couple are so intimate that they can be judged only by the husband and wife.

In other words… Fatti gli affari tuoi! ("Mind your own business!")
#22
Italian

La mamma dei cretini è sempre incinta.

Literally

"The mother of fools is always pregnant."

Equivalent

There's one born every minute.
There are many versions of this very old and wise proverb:

La madre dei cretini ("fools") è sempre incinta. 
La madre degli idioti ("idiots") è sempre incinta.
La mamma degli stupidi ("stupid people") è sempre incinta.
La mamma degli imbecilli ("imbeciles") è sempre incinta. 

So, you can change the word but the concept is the same: There will always be idiots around to make things difficult.
#23
Italian

Volere la botte piena e la moglie ubriaca.

Literally

"Wanting a full wine barrel and a drunk wife."

Equivalent

Have your cake and eat it too.
Here's another example of a proverb that's not very kind to Italian women…but its metaphorical meaning is clear: You cannot have everything in life!

Vuoi dimagrire continuando a mangiare di tutto? Non puoi avere la botte piena e la moglie ubriaca! ("Do you want to lose weight while continuing to eat everything? You can't have your cake and eat it too!")
5. Proverbs About Life, Wisdom, and All the Rest…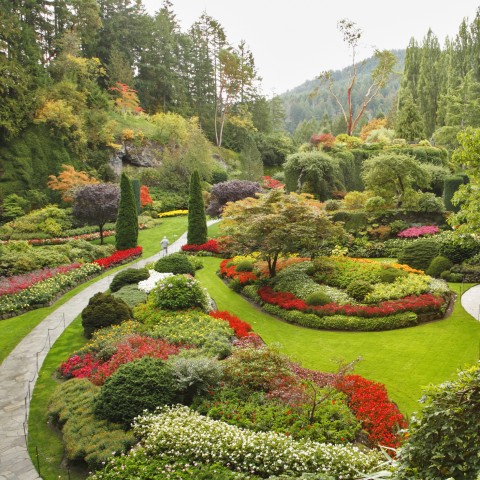 Why is the neighbor's grass always nicer???
We could all use a little guidance now and then, which is where these Italian proverbs about life and all of its trappings come in! 
#24
Italian

Occhio non vede, cuore non duole.

Literally

"Eye does not see, heart does not hurt."

Equivalent

Out of sight, out of mind.
Ignorance can be a blessing and it sometimes spares us a lot of suffering. Another popular way of saying this is:

Beata ignoranza! ("Blissful ignorance!")
#25
Italian

Chi troppo vuole nulla stringe.

Literally

"Those who want too much obtain nothing."

Equivalent

Grasp all, lose all.
Don't be greedy! This proverb ultimately invites us to not do/want too many things at the same time, because none of those things will be done well in the end.
#26
Italian

A buon intenditor, poche parole.

Literally

"To the good connoisseur, a few words."

Equivalent

A word to the wise (is sufficient).
This proverb indicates that if you're intelligent and aware of things, you don't need many explanations in order to understand a concept. A few words should be enough.
#27
Italian

L'erba del vicino è sempre più verde.

Literally

"The neighbor's grass is always greener."

Equivalent

The grass is always greener on the other side.
Envy is one of the most defective traits we can have, but it's unfortunately a pretty common trait in our society. Often, as this proverb suggests, we prefer to look at the possessions or success of those around us, often thinking they're better than us.
#28
Italian

Ride bene chi ride ultimo.

Equivalent

Laughs best who laughs last.
This proverb highlights how one should not celebrate before the end of a situation, even if things seem to be going in the right direction. And this is not only out of superstition! We all know that everything can change at the very last minute.
#29
Italian

Fra i due litiganti il terzo gode.

Literally

"Between the two litigants the third enjoys."
This proverb comes from the title of an Italian comedy of errors from the end of the eighteenth century. It means that sometimes, if two people fight about something, a third person might benefit in the end by taking advantage of the distraction and weakness of the two busy fighting.

So, don't make war, please!
#30
Italian

Non è tutto oro quello che luccica.

Equivalent

All that glitters is not gold.
This metaphorical phrase warns about things, behaviors, or situations that appear fantastic from the outside—but which are far worse when you take a closer look!

Another proverb that warns us not to judge by appearances is: 

L'abito non fa il monaco. ("The dress does not make the priest.")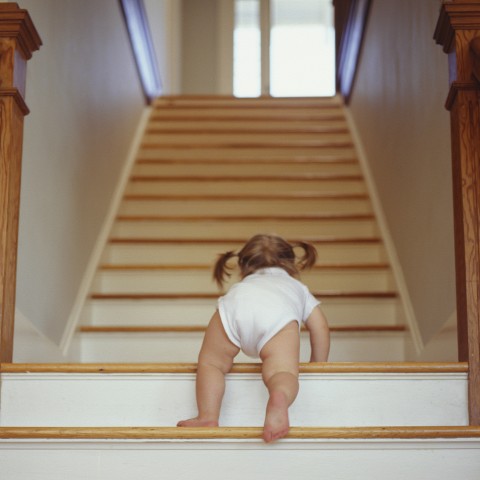 Life is made of stairs…
#31
Italian

Il mondo è fatto a scale, c'è chi scende, e c'è chi sale.

Literally

"The world is made of stairs, some go down, and some go up."

Equivalent

Every dog has his day.
Life, as luck, comes and goes. You never know what direction life will take.
#32
Italian

Chi fa da sé, fa per tre.

Literally

"He who works by himself does the work of three (people)."

Equivalent

If you want something done right, do it yourself.
It's true that often, in order to do a good job, you have to do it yourself. But, ironically, you could also say the opposite using another motto: L'unione fa la forza ("Unity is strength"). So, who do you think is right?
#33
Italian

Tra il dire e il fare c'è di mezzo il mare.

Literally

"An ocean lies between what is said and what is done."

Equivalent

Actions speak louder than words. 
Talking is easy, but it's much more difficult to actually do things. This proverb refers to people who have a tendency to speak a lot and make promises they don't keep.
#34
Italian

A mali estremi, estremi rimedi.

Equivalent

Desperate times call for desperate measures.
Sometimes a drastic action is called for—and justified—when you find yourself in a particularly difficult situation.
#35
Italian

Sbagliando s'impara.

Literally

"Learning by mistakes."

Equivalent

Practice makes perfect.
Don't worry about making mistakes, as they are life experiences that we can learn from. And if you're learning Italian, you can be certain that making a few mistakes is paving the road to greater skills. And practice—with ItalianPod101.com—definitely makes perfect! 
6. Conclusion
In this guide, you've learned the 35 most common Italian proverbs. Do you know any others? Make sure to share them with our community in the comments below!
And keep up the good work with your Italian studies! We encourage you to take advantage of all the free resources, vocabulary lists, and video and audio podcasts on ItalianPod101.com to boost your studies and keep learning fun!
Make sure you also check out our Premium PLUS service, MyTeacher, to get personal one-on-one coaching with your own private teacher. He or she will use assignments, personalized exercises, and recorded audio samples to help you improve your Italian like never before! 
May 14, 2021
Tutte le strade portano a Roma. ("All roads take you to Rome.")
If you plan to visit Italy, you might as well start in the nation's political and cultural capital. Another popular saying—Roma, città eterna ("Rome, the eternal city")—sums up its unique historical importance and beauty. Rome is a multilayer city with immense artistic treasures and historical architectures that will make you dream of walking through the Ancient Roman Empire, the Baroque and Renaissance periods, and everything in-between.
Before you plan a visit to Rome, though, you'll have to do your research. And that's where we come in. In this article, you'll learn what to expect and where to go for the best experience!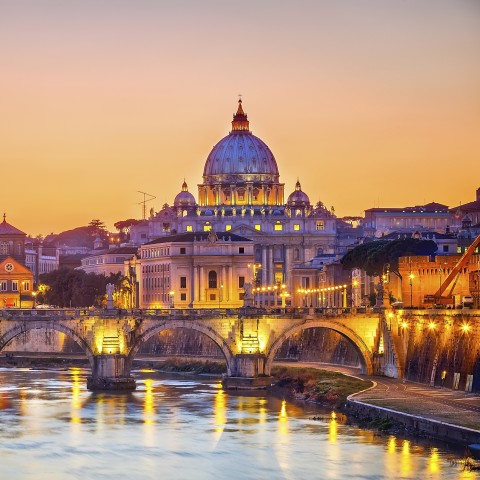 Rome, Eternal City
Table of Contents
Before You Go
The history of Rome, the one that everybody knows, starts with a bang! At one time, Rome was on top of the known world. At its peak, the Roman Empire spread from North Africa to England, and from Portugal to the Balkans, and lasted around five centuries.
In Latin, you would say: Roma caput mundi. ("Rome top of the world.")
The wonderful thing is that you can still get a pretty good feel of Rome's grandeur just from walking by the imperial ruins. But even with its size and majestic past, Rome is still a very easy-going city. A nice place to take a walk, yet full of mysteries and surprises.
As the capital city of Italy, Rome hosts all of the Italian government organizations such as the Parlamento ("Parliament") and the Presidenza della Repubblica ("President Headquarters"). Also, the headquarters of Italy's many political parties are here. So if you see a lot of very serious people, dressed mostly in blue and going around with an escort and many newspapers under their arms, you can guess who they are. In Italy, these locations are often referred to using the name of the building, so be aware of these terms:
il Quirinale: where the President is
Montecitorio: the Chamber of the Deputies
Palazzo Chigi: the house of the Prime Minister
Palazzo Madama: where the Senate meets
Rome is a big and vibrant metropolis that incorporates the quintessential aspects of the Italian character and lifestyle: warm, welcoming, easy-going, happy, a bit loud, and a bit chaotic. Finally, let's not forget that it is here where the concept of La Dolce Vita was born and beautifully eternalized by the great Federico Fellini. And if you want a more recent portrait of this beautiful city, watch the other acclaimed movie La Grande Bellezza ("The Great Beauty") before visiting.
→ If you're a fan of Italian cinema, don't miss a visit to Cinecittà, the largest film studio in Europe. And yes, it's in Rome!
Even if it's not the top of the world anymore, you need to keep in mind that Rome is huge! While you can walk and get pleasurably lost in some neighborhoods, you still need some sort of transportation to get from one part of the city to another. Driving is definitely not the easiest thing to do in Rome, as the traffic can be bad and the Roman drivers are…unruly and a bit reckless.
Our suggestion is to opt for public transport. Or better yet, buy a tour bus ticket and have a guided overview of all the sightseeing attractions in Rome while comfortably sitting on the bus. Later, you can go back on your own to spend more time in the parts of the city you're more interested in.
Rome is blessed with mild weather, which makes it very pleasant to walk around—and even stay outside—all day. Still, the best time to visit Rome is in the spring or in the autumn. It won't be as hot as it is in the summer months (July and August), but it's still warm enough to stay outside all day (and all night).
La dolce vita… ("Sweet life…")
In principle, you should find fewer tourists during the off-seasons. But because Rome is visited by around nine million people each year, you have to be ready to endure lines in most places—and you might have to wait to be served your spaghetti carbonara.
How much money do you need to travel to Rome? Of course, that depends on your budget and your traveling style. If you're a backpacker, you can get by with around $50 per day. This takes into account staying at a hostel (check out the Ostelli della Gioventù), eating lots of pizza slices with plain water, getting around by foot and bus, and paying for certain attractions. But if you love traveling luxuriously, then your budget can swell up to $265 per day.
And talking about money, you should carry euros with you or pay with your international debit or credit card. You should be able to easily draw cash from a Bancomat ("cash machine") or uffici di cambio ("exchange offices"). Whatever you do, don't assume that you can take out your dollars or pounds to pay for an espresso or your favorite newspaper! Besides, who wants to calculate exchange rates, make conversions, and check to see if anyone has made a mistake (or is trying to be smart…)?
What else to bring to Rome? Here's what we recommend:
Sunglasses, because being outside all day under a perfect blue sky can really tire your eyes
A small umbrella in case of rain
Multiple layers of clothing to be ready for any temperature
Your favorite ItalianPod101 app to help you polish your Italian on the go 😉
Must-See Places for a 1-3 Day Trip
Even if you have just a few days in Rome, there is still a lot that you can see and experience. The absolute must-see attractions if you're just passing by for one day are:
The Roman ruins
The Colosseum
The Roman Forum
The beautiful Trevi Fountain
The Spanish Steps
Piazza Navona
St. Peter's Square in the Vatican City
Plan to visit Rome by night? Then you can enjoy an osteria ("tavern") in Trastevere.
But really, just one day in Rome is not enough. So here's a packed (but more enjoyable) three-day itinerary.
Ancient Rome
The best way to start your visit in Rome is by experiencing the ancient ruins and its most famous (and most-visited) monument. Once there, you'll find yourself in front of a colossal structure that will immediately conjure up images of gladiator fights and exotic wild animals. And then, just a few strolls away, you'll be immersed in a different time—it will feel as if you were walking around in a toga, going to meet with Julius Caesar!
1 – Colosseum
The Colosseum is Rome's most famous monument and one of the most-visited in all of Europe. In addition to being the world's largest amphitheater, it's also a UNESCO World Heritage Site (along with the entire historic center of Rome).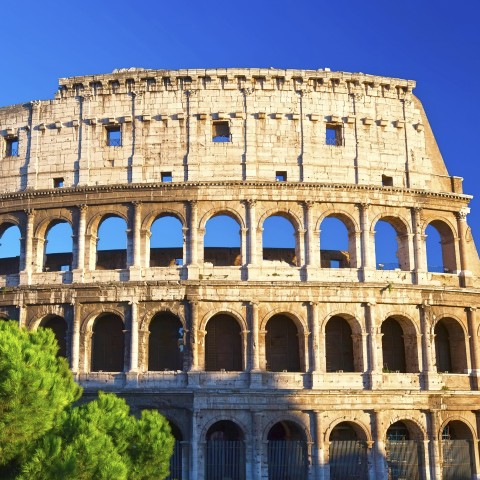 Timeless beauty
It was built around 80 AD and could hold an average of 65,000 spectators. There, they observed not only gladiator fights but also impressively hi-tech shows for the time, such as mock sea battles (where the whole theater was entirely filled with water!) and dramas based on Roman mythology.
The Colosseum clearly reflects the architectural and construction concepts of the early Imperial Age. This is particularly evident in its use of curved and enveloping lines offered by the oval plan, and in the structural relationships of arches and vaults.
So, enter this truly colossal structure and let yourself be enveloped by the density of the emotions the spectators of Ancient Rome felt. Also be ready to endure two inevitable—and rather annoying—features around the Colosseum: long ticket lines and fake Roman centurions asking you for money in exchange for a tacky picture. You can avoid the first nuisance by buying the tickets online via this site. As for the second nuisance…sorry, you're on your own for that!
2 – The Roman Forum and Palatino
The Roman Forum is a lovely sight, and its location right next to the Colosseum makes it very easy to visit both places on the same day. It used to be Rome's political, juridical, religious, and economic center. It can be defined in all respects as the beating heart of Ancient Rome.
In the early days of the Republic, this was a chaotic place with food stalls, brothels, temples, and the Senate house. The food stalls were eventually replaced by shopping malls and courts, and the Forum became a ceremonial center under the Empire. Here, all the monuments, temples, and basilicas were concentrated. Today, you can even admire what remains of the temple built in honor of Julius Caesar.
The beating heart of ancient Rome
Not far from the Forum, you can visit the Palatino ("Palatine Hill"). It's one of the seven hills of Rome and constitutes the oldest part of the city. It is a real open-air museum! According to Roman mythology, Romulus and Remus, the famous brothers suckled by the she-wolf who became the founders of the city, came to light on the Palatine Hill.
In any case, the Palatine Hill remains one of the most evocative places in the city, as it was the home of the ruling class of Ancient Rome and, later, of the Farnese family gardens. The pleasant green of the rich vegetation envelops the vestiges of the past and accompanies people on this historical journey. And from here, the view is just breathtaking.
3 – Trastevere
After a whole day among stones and ruins, nothing beats a cool night out in Trastevere. Rome can be a great lively city, but Trastevere shows that it has never lost its village atmosphere. It's a colorful neighborhood along the Tevere, the river that cuts through Rome.
It used to be a working-class area and today is a funky, bohemian spot. It's known for traditional and innovative trattorias, craft beer pubs, artisan shops, simple B&Bs, and budget hotels.
Here, you'll find the intimate side of the capital. It's a place of pastel red buildings with green ivy that hangs down from the facades of the houses, and squares full of cafes and pizzerias, with "front row" seating to observe the river and the life that flows around it.
Sunset on the Tevere
4 – Campo dei Fiori
Another option for spending your night is Campo dei Fiori, probably the oldest market in Rome. Every morning since 1869 (except on Sunday), the square has been filled with colorful stalls selling fruit, vegetables, meat, poultry, fresh fish and, as a matter of fact, fiori ("flowers").
During the day, Campo dei Fiori is really the right place to buy Roman specialties or to stock up for a nice picnic in a park. But at night, the square turns into one of the meeting places for nightlife, the perfect place to enjoy a drink or something to eat in the many outdoor cafes and restaurants.
Vatican City
Vatican City is definitely one of the best things to see in Rome. It's a town in its own right, and is in fact a different state. When you enter St. Peter's Square or the Vatican Museums, you cross the state border from Italy to the Vatican. It's a very little state, considering that, apart from the Pope, it has only another 850 or so citizens, most of them being cardinals, diplomats, and guards.
Despite its small size, the Vatican City is visited every year by thousands of tourists, either for religious reasons or to get a glimpse of its many artistic treasures.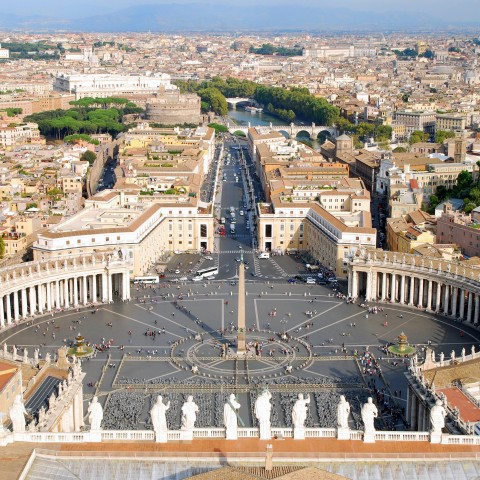 View from the top of the Basilica
5 – Piazza San Pietro e i Musei Vaticani
Once in the Vatican, you cannot miss St. Peter's Square and the Basilica. The square is huge and from its center, you can see the most famous windows in the world, the ones from which the Pope looks out of every Sunday to give his blessing to thousands of followers. It's also the window from which the most well-known sentence in Latin is announced after the successful election of a new head of the Catholic Church: "Habemus Papam…" ("We have a new Pope…").
St. Peter's Basilica is the largest church in the world and it's considered one of the most sacred Catholic shrines as, according to tradition, Saint Peter's tomb is supposedly right below the high altar of the basilica.
If you can, don't miss the chance to go to the top of the dome, where you'll have a fantastic view of the whole city, as well as the chance to see the Basilica and the square from above.
To visit the Vatican Museums, it's best to arrive very early and/or to buy a skip-the-line ticket because it gets very crowded around midday. There is a lot to see and you can easily spend the whole day there, but you can opt to "limit" your visit to the Sistine Chapel and the fabulous Double Helix Staircase. If you have limited time or the lines are too long, keep in mind that you can also try a virtual tour.
→ Word of caution: Shorts, mini-skirts, and tank tops are not allowed in most churches, so think about the right dress code before visiting the Vatican…
6 – Castel Sant'angelo
A nice walk from St. Peter's Square, the Castel Sant'Angelo was originally built as a mausoleum for the emperor Hadrian and it has overlooked the Tiber River for almost two thousand years. In this time, it has evolved from its initial role as a tomb, becoming a fortress, then a castle, and finally a museum.
Today, it's open to the public and you can climb to the top for a splendid view of the city. You'll also be able to admire the construction techniques that have allowed it to survive for two millennia.
From mausoleum to castle to museum
Central Rome
7 – Piazza Navona
Piazza Navona is among the most famous places to visit in Rome, built on commission from the Pamphili family. It is the best example of Roman Baroque style. Like many piazze in Rome, this location boasts a lovely central fountain. This was sculpted by Bernini and is enriched with an Egyptian obelisk made of a unique block of stone where the four largest rivers in the world are represented.
If you happen to visit Rome during Christmas or the other winter holidays, don't miss the traditional market and street artists.
8 – Pantheon
The Pantheon is an imposing temple dedicated to all the Roman gods, originally built in 27 BC! It is a unique building due to its shape and dimensions.
The House of all Roman gods
The Pantheon has a circular shape, in front of which there is a classical colonnade. The dome has the particularity of not being completely closed: there is an opening at the top, called oculus ("eye" in Latin), that functions as a sundial—the sun, passing through the oculus, marks the passing of the hours and seasons. And when it rains? Well, the inside gets wet but, thanks to a series of holes in the floor, the water flows away.
The dome of the Pantheon is considered the biggest in the world, with a diameter of over 43 meters and a weight of 5000 tons. It's considered among the largest in the world, and it undeniably constitutes a masterpiece of engineering and architecture, especially if we take into account the period in which it was built.
9 – Fontana di Trevi
From the Pantheon, you can easily get to the Trevi Fountain. Over the years, this fountain underwent many changes and was rebuilt several times, but the final version presents us with another great example of the Roman Baroque style.
It is one of the symbols of the Eternal City, as well as the largest and most spectacular of the Roman fountains with a width of 20 meters and a height of 26 meters. This extraordinary work celebrates the wonderful and changing world of water. Approaching la piazza, you can already hear the sound of the water, which creates a breathtaking view as it flows from the white stone.
There are many legends told about the famous Trevi Fountain, but the best known is certainly the one that claims if you throw a coin into the fountain (strictly from over your shoulder), you will surely return to Rome. And a lot of people throw coins in this fountain; an estimated one and a half million euros are collected each year from the fountain. Where does it all go? A part goes to the Caritas and a part to the maintenance of the city's cultural heritage.
Don't do this, unless you want to get a fine!
And of course, there's the cinema, Fellini, Mastroianni, Anita Ekberg, and La Dolce Vita. But don't try to imitate that, or you'll get a fine!
10 – Piazza di Spagna (Spanish Steps)
To wrap up our trip around the ten must-see places in Rome, let's go to Piazza di Spagna. Another masterpiece of Baroque architecture, it opens at the end of the luxurious Via Condotti and, in the center, the Barcaccia Fountain and the majestic Spanish Steps.
The fountain was built by Bernini and owes its shape to a legend that says a real boat was found there, perhaps brought by a strong flood of the Tiber. Barcaccia, in fact, means "the big ugly boat."
The monumental 136-step staircase was built in 1725 to connect the church of Trinità dei Monti, located at the top, to the Spanish Embassy in the square. The best time to visit is in the morning, because of the beautiful light, especially on spring days with blue skies when the staircase is covered with azaleas!
The staircase was to be used not only as a passageway, but as a place to stop and sit. However, a new regulation has recently come into force that prohibits sitting (and especially eating) on the ladder, so be careful!
A night out, Italian style
Survival Italian Phrases for Travelers 
Now for the elephant in the room: Can you visit Rome without knowing Italian?
In Rome, there will be people speaking English at most tourist attractions (though possibly with a thick Roman accent), but don't expect that everybody on the street or in small venues and stores will be able to understand. This is actually good news, because you will be able to practice your Italian. And ItalianPod101 will be with you all the way!
Here is a list of essential survival phrases in Italian for your trip:
Buongiorno!
Buonasera!
"Hello!" / "Good morning!"
"Good evening!"
Arrivederci.
"Goodbye."
Grazie (mille).
"Thank you (very much)."
Non parlo Italiano.
"I don't speak Italian."
Per piacere. / Per favore.
"Please."
Scusa. / Mi scusi.
"Excuse me."
Mi dispiace.
"(I am) sorry."
Dov'è il bagno?
"Where are the toilets?"
Può ripetere per favore?
"Can you repeat (please)?"
Quanto costa?
"How much is it?"
Vorrei questo.
"I would like this."
Parla inglese?
"Do you speak English?"
These are just some basic phrases to help you get by. For more on this topic, be sure to check out our survival guide on Italian Travel Phrases.
When in Rome… (Common Slang Expressions Used in Rome)
While walking around the Roman Forum or sipping a beer in Trastevere, you might hear some Roman expressions that you don't understand. This is because people in Rome use a lot of colloquial slang called romanesco. It's not a dialect, just a collection of common expressions used in Rome.
Here are the six most common expressions that you might hear during your visit:
| | | |
| --- | --- | --- |
| Aò!  | Ciao! | "Hello!" |
| Ammazza! | Addirittura! | "Wow!" |
| Daje!  | E dai! | "Come on!" (irritated) |
| Anvedi! | Guarda! | "Check it out!" |
| Annamo. / 'Nnamo.  | Andiamo. | "Come on." / "Let's go." |
| Mortacci tua / 'tacci tua | A highly offensive, but very common insult. You will hear it a lot, but don't use it! 😉 | "Your ancestors" (cursing) |
Conclusion
After reading this guide, you're ready to visit one of the most wonderful cities in the world: Rome! When you go, tell us all about your adventures in the comments below. Did you discover any hidden treasure? Were you able to practice your Italian (or even your romanesco)?
In any case, make sure to explore ItalianPod101.com, as we have plenty of free resources to help you practice your grammar and learn new words before you visit Italy. And when you go, don't forget to bring with you our awesome mobile apps. Our vocabulary lists are another great way to review words and learn their pronunciation.
Happy learning, and enjoy your travels in Rome!
May 13, 2021
Languages are influenced by a variety of factors, and words often travel from one language to another by way of loans, borrowings, translations, and general misuse. Some languages, including English and Italian, have had more of an influence on the world than others and are widely used (and misused) the world over. Italian has been influencing other languages, especially English, for a rather long time. This influence mainly appears in the fields of music, food, and science. 
Today, there are also several English words used in Italian. This English influence on Italian is more recent, resulting from the huge influence that British and North American culture have had on our old continent in the last few centuries. Italians have borrowed many words, but sometimes these borrowed words are endowed with a somewhat different meaning than that of the original.
In this article, we'll guide you through the different word exchanges between English and Italian. You'll see that studying these commonly used (and misused) words can give you a head start in your vocabulary-building and help you communicate easily even as a beginner.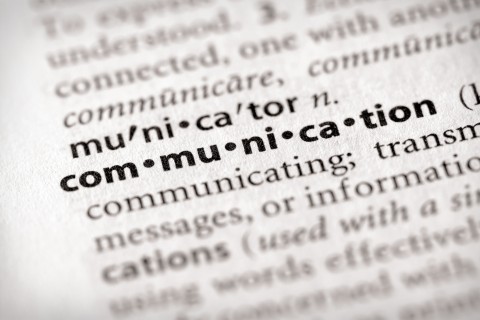 English, Italian, or Itanglish…as long as we communicate!
Table of Contents
Loanwords 
We may not even realize it, but loanwords are everywhere and we use them all the time. But what exactly are they? A loanword is defined as a word that has been borrowed from another language. For example, an English word that becomes incorporated into another language (like Italian) without translation would be considered a loanword.
So, don't be puzzled if you're walking around Milan one evening and hear someone say: 
Dove butto il chewing gum? ("Where do I throw the chewing gum?") 
Or:
Durante l'happy hour offrono sandwich e cocktail. ("During happy hour, they offer sandwiches and cocktails.") 
Even though half of the words are English, these are perfectly correct Italian sentences.

Of course, you could have said: Dove butto la gomma da masticare? and Durante l'aperitivo offrono panini e bibite alcoliche, but nobody speaks like that anymore. This is because some words have entered the common vocabulary with such force that using the original Italian word sounds a bit old-fashioned.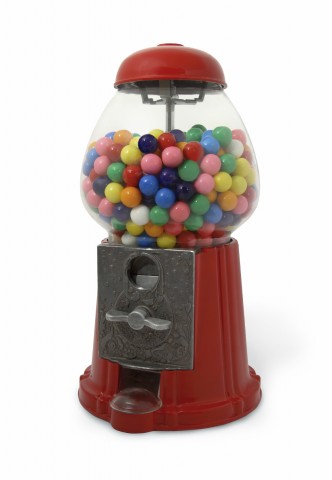 Chewing gum o gomme da masticare?
Although Italian has lent a great number of words to every other language, some "purists" hate to see our language "contaminated" by other languages. This feeling is especially strong toward Anglicisms, which they believe there are way too many of these days. But the reality is that languages change constantly and we have to accept the way people talk.
Here are some of the most commonly used English loanwords and their Italian equivalents.
Sandwich
Hai portato i sandwich? ("Did you bring sandwiches?")
Panino. 

It is rather funny that we borrow the English word for it, even though we have exported the Italian name for it all over the world…
Cocktail
Vorrei un cocktail esotico. ("I would like an exotic cocktail.")
Italians have always been more into wine, so maybe that's why there is no real equivalent for this word unless you make a huge periphrasis: mistura di bevande alcoliche con succhi o frutta e ombrellini (literally: "mixture of alcoholic drinks with juice or fruit and small umbrellas").
Chewing gum
Non ingoiare il chewing gum! ("Don't swallow the chewing gum!")
Gomma da masticare. 

Nobody really says this anymore, but you may hear people call it gomma or cicca in some parts of Italy.
Happy hour
A che ora è l'happy hour? ("What time is the happy hour?")
Aperitivo or Apericena. 

They also sound happy, right? You can read our blog post on Untranslatable Italian Words if you want to learn more about apericena and other words that cannot be easily translated.
Smartphone
Ho comprato uno smartphone nuovo. ("I bought a new smartphone.")
Telefonino. 

This cute word was actually created as a name for the old-style cell phones, but it is still used today for the smart models.
Chat
Ne parliamo in chat? ("Should we get on a chat?")
If you chat in person, it's chiacchiere, but there is no Italian equivalent for chatting over the internet. That said, you can 'Italianize' the word "chat" by conjugating it as a regular verb: chattare (io chatto, tu chatti, lui/lei chatta, ecc.). 
T-shirt
Che taglia è questa t-shirt? ("What's the size of this T-shirt?")
Maglietta (a maniche corte). 
Weekend
Cosa fate per il week-end? ("What are you doing for the weekend?")
Fine settimana.
It's interesting to note how Italians use these English words with different syntactic rules. For example, we don't add -s to make them plural (i sandwich, gli smartphone, le t-shirt) and we do assign them the same gender as the Italian equivalent:
il panino → il sandwich
la maglietta → la t-shirt
il fine settimana → il weekend
All of the words above have been used for decades and are part of everybody's daily vocabulary. But there are other loanwords that have recently entered the jargon of young Italians and professionals of the new economy. 

It's considered "cool" to use the English equivalents of these words, even though they have perfect Italian equivalents. So be aware: if you're in an Italian work environment, you might actually end up listening to a lot of English words!
Il marketing del brand del "Made in Italy." (The marketing of the "Made in Italy" brand.)
Marketing
Lei è il nuovo direttore marketing? ("Are you the new marketing director?")
Vendita. 

Of course, "marketing" refers to everything that has to do with selling strategies and all the communication that goes with it.
Business
Dobbiamo fare crescere il business. ("We need to grow our business.")
Affari, attività economica. 

This word is also widely used in combination with other words, as in: business class, business school, core business, and show business.
Brand
Ferrari è il brand più forte al mondo. ("Ferrari is the world's strongest brand.")
Marchio. 

It is not uncommon to hear people talking about il brand del "Made in Italy." Believe it or not, that is a correct Italian sentence!
Meeting
Il meeting è alle tre. ("The meeting is at three.")
Riunione. 

Besides being used in the workplace, it is also used for some sporting competitions, such as in: il meeting di atletica ("the track and field competition").
Briefing
Hai letto il briefing di oggi? ("Did you read today's briefing?")
Istruzioni brevi. 

Did you know that the term "briefing" originally derives from the Latin brevis ("short")? And now it has returned to Italian as a loanword…
Know-how
È importanto valorizzare il know-how. ("It is important to enhance the know-how.")
Competenze. 
Gap
Il gap salariale è troppo alto! ("The retribution gap is too high!")
Divario, dislivello. 
Coffee break
Ci meritiamo un coffee break. ("We deserve a coffee break.")
Pausa caffè. 

Even if you only need a few seconds to drink an espresso ristretto, it doesn't mean you have to miss out on a longer break. 😉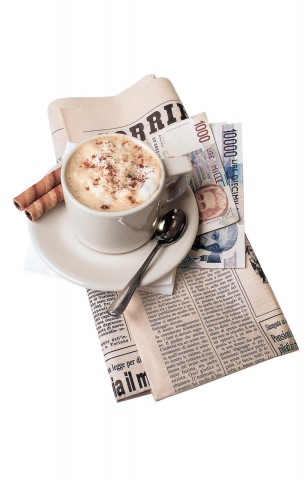 Time for a coffee break (a rather old time…).
Introduction to Itanglish
All of the loanwords we've seen so far tend to make sense. They are common, they are universal, and they help us communicate. But some words have taken on a life of their own to form a 'language' called Itanglish. This consists of English words that are used in Italian communication on a daily basis, but with a twist. 
This is a rather interesting phenomenon and one that exists in every language. Basically, for some mysterious reason, an English word enters the Italian common use but with a slightly different meaning from the original word. In the end, the word looks and sounds English, but it is not English anymore because its meaning is altogether something else. Now, the origin of the meaning of these words is difficult to trace back, but the fact is that everybody in Italy agrees on the same meaning.
Do You Speak Itanglish? 
These words are a great source of comedy because Italians will use them with the definite conviction that any English speaker will know exactly what they mean. But nothing could be further from the truth. The reality is that, out of context or without the help of the proverbial Italian gestures, nobody will understand… Here are some examples of English words used in the Italian language that might confuse you at first glance.
Zapping
From the verb "zap," meaning to destroy your enemy, it has become "to change channels compulsively with your remote control" in Itanglish.
Smetti di fare zapping! ("Stop changing channels!")
Footing
In English, this can refer to the action of moving by foot ("she was seen footing across the field"). It is also used to describe the state of one's feet having a secure grip on something ("I nearly lost my footing"). For some reason, it is used as a synonym for jogging, or correre, in Itanglish.
Faccio footing ogni mattina prima di andare al lavoro. ("I jog every morning before going to work.")
Smoking
How do you get from "smoke" to dinner jacket or tuxedo? Beats me…but this is the meaning of the Itanglish word!
Mio padre metteva lo smoking per andare a teatro. ("My father wore a tuxedo to go to the theater.")
Flipper
A flipper is a pinball machine. Well, I guess what happened here is that since the little fins you operate to throw the ball back are called 'flippers,' the whole machine took that name in Itanglish.
Mi piace giocare a flipper. ("I like playing with the pinball machine.")
Box
We all know what a box is, right? Well, not exactly… In Itanglish, box has become a small enclosed space, like a garage for a car or a box doccia ("a shower cabin").
Questo appartamento è dotato di un box? ("Does this apartment come with a garage?")
Mister
No, we are not talking about just any man. In Itanglish, the mister is one specific man: the coach (also known as allenatore) of a team. This is normally used for the coach of a soccer team. 
Il mister ci ha fatto i complimenti per la partita. ("The coach praised us for the game.")
Spider
You don't like spiders? I bet you'll like these, though. In Itanglish, this word refers to a two-seat sports car. So how do you go from a car to a spider? Apparently, in the past, the disproportion between the size of the tires and the small cockpit made them look like spiders…
Il mio sogno è avere una spider rossa. ("My dream is to have a red sports car.")
Toast
When you think of toast, a single slice of slightly toasted bread comes to mind. But in fact, if you ask for a toast (pronounced un tost) in Italy, you will receive two slices of toasted bread with ham and cheese between them.
A pranzo ho mangiato solo un toast. ("I just ate a ham and cheese toast for lunch.")
Golf
If you're thinking of long afternoons playing on green grass, think again. Because for some strange reason, Italians use un golf to refer to a light woolen pullover. Why? Who knows… And if you hear someone talk about un golfino, it's just another cute way of saying the same thing.
Porta il golf che stasera farà freddo. ("Bring a pullover because it will be cold tonightl.")
Slip
Maybe because it means "to slide" or "to move quickly" in English, this word means "underwear" in Itanglish. It makes sense, right? And of course, if it is very small or belongs to a little child, it turns into lo slippino.
Ho comprato tre slip per 10 euro. ("I bought three pairs of underwear for 10 euros.")
Feeling
In Itanglish, this is a very particular emotional state. It is when there's a spontaneous and immediate emotional bond between people…a special understanding.
Fra di noi c'è del feeling. ("There's chemistry between us.")
Fiction
In English, fiction refers to any literature in the form of prose, such as novels or short stories, that tell a story not directly based in reality. But in Itanglish, it has taken on the meaning of "TV series." Once upon a time, they were called sceneggiati.
Non posso perdere l'ultima puntata della mia fiction preferita. ("I can't miss the last episode of my favorite TV series.")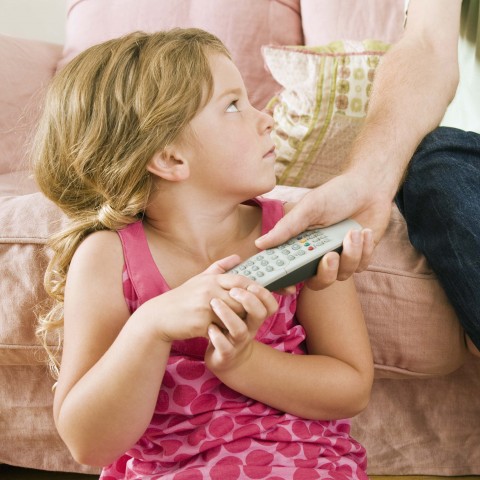 Basta zapping! ("Stop channel surfing!"…Let go of the remote!)
English Words Derived from Italian
How did you like speaking Itanglish? Well, you should know that there are also many Italian loanwords that are commonly used in English. Most of them belong to the realm of music, arts, food, and science.
Let's review some of them:
→ From music
Fiasco
Soprano
Diva
Piano
Prima donna
Concerto
Finale
Ballerina 
→ From the arts
Chiaroscuro
Scenario
Mask (maschera)
Studio
→ From science
Volcano (vulcano)
Lava
Influenza
Medico
Malaria
Quarantine (quarantena)
Tarantula (actually, from the city of Taranto)
→ From food (of course)
Lasagna
Spaghetti
Pizza
Broccoli
Mozzarella
Panino
Pasta
Gelato
Pesto
Granita
Gusto
and tons of others…
Conclusion
As you've seen in this guide, there are plenty of English words in Italian to help you start communicating even as a beginner! You've also seen some Itanglish words that will take some getting used to, but which will make your speech that much more natural once you do. Did we forget any important Itanglish word that you've heard before? Tell us about it in the comments!
Keep working on and having fun with your Italian studies on ItalianPod101.com, where you can find tons of vocabulary lists, free resources, and even mobile apps. 

Remember that you can also use our Premium PLUS service, MyTeacher, to get personal one-on-one coaching. Your private teacher will guide you so that you always know what to study next, based on your needs and progress. He or she will provide you with assignments, personalized exercises, and recorded audio samples to help boost your progress. There is no faster way to learn Italian than with ItalianPod101!
December 18, 2020
In this article, we're going to dismantle some common misconceptions about learning a new language, with a focus on Italian. We'll start with a big question: "Is Italian hard to learn?"
Table of Contents
1. Is Italian a Difficult Language to Learn? (Spoiler…the answer is "No")
So, you've finally decided to jump into learning a new language, and your first choice is Italian (a great choice, by the way). Now, with your foot in the door, you're wondering whether Italian is a hard language to learn. 
The short answer here is "No!" Anybody can learn Italian, especially after getting through our quick and definitive guide on how to succeed. And our first piece of advice is this: Independent of your goal, learning a new language is a journey, so have fun with it!
Of course, there are some variables that have an impact on how easily or quickly you're going to master Italian, but the good news is that you'll definitely get there—and you'll have great fun in the process.
First, let's take a brief look at the main factors that affect the way one learns and perceives a new language:
→ predisposition: We all know that learning a language just comes easier to some people than it does for others. They have that something…it's like having a good ear for music or a good sense of direction. But don't worry, even if that might give them a little jumpstart, there are lots of other variables that contribute to one's perceived difficulty of a language.


→ motivation: Whether you were born with a knack for languages or not, being very motivated can help you learn quickly and with ease. Imminent moves to Italy, the prospect of a job abroad, or an Italian boyfriend/girlfriend have always been fantastic motivators!


→ how close your native language is to Italian: of course, if you speak another of the Romance languages (French, Spanish, or Portuguese, for example), Italian will be easier for you because you'll find many similarities.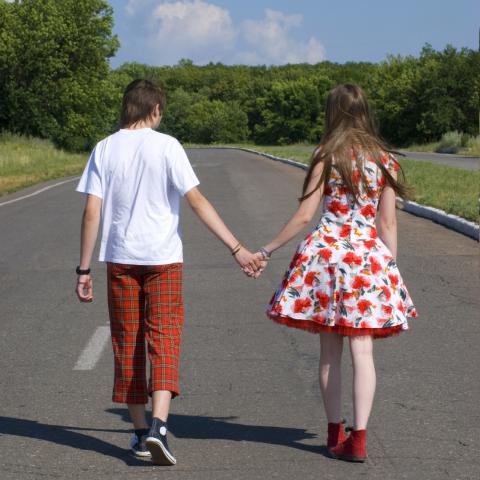 Learning a language is a journey. Have fun with it!
2. What are the Hardest and Easiest Parts of Learning Italian?
But what if you don't speak one of the Romance languages? Is Italian hard to learn for English-speakers?
We have good news: The Foreign Service Institute (FSI) considers Italian to be one of the easiest languages for English-speakers to learn. In fact, they estimate that you just need twenty-four weeks (or 600 hours) to acquire basic fluency. So after that amount of time, you should be able to sustain a simple conversation and get by in various Italian language situations.
Well, in the end, these are just numbers and everybody has a different learning pace and different needs. But that said, let's see in full detail what the easiest and hardest parts of learning Italian are—and what strategies you can use to tackle any Italian difficulty you face.
Let's start with the good news:
3. This is Why Learning Italian is Easy!
Here are a few aspects of the Italian language you can rejoice about as a new learner. 
1 – Pronunciation 
Italian pronunciation is not only beautiful and very musical, but it's also easy! 
Why? Mainly because everything is pronounced the same way it's written, and there are no strange exceptions as there are in languages like English or French. In Italian, there are clear and basic rules to follow, and the most important thing to remember is that every letter is pronounced (except for "h"). In addition, almost every word ends with a vowel, which is what makes the Italian language so beautiful. 
2 – Simple Tricks to Easily Guess the Italian Word
Italian, like all other Romance languages, comes from Latin. It's actually the one language among them that's closest to Latin.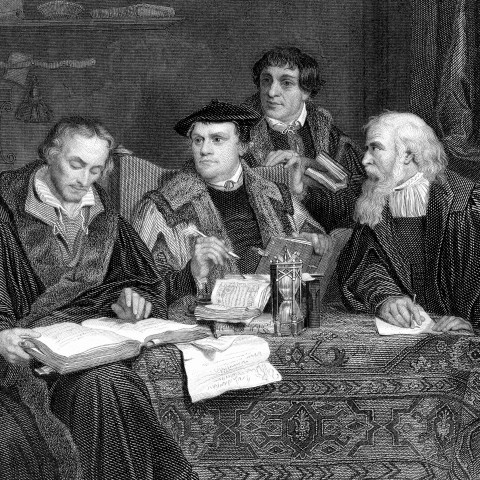 Can I borrow these words? Please…?
Since the Middle Ages, English has borrowed a great number of words from Latin and incorporated them into everyday language. You might not realize it, but there are lots and lots of English words that you use every day that come from Latin. Thus, these words are very similar to the corresponding Italian word.
This means that you can reverse the process and guess the Italian word, starting from a Latin-derived English one. And this process is super-easy because there are simple tricks for translating suffixes (the final part we attach to a word to slightly change its meaning) and getting the correct Italian word every time. 
Let's see how easy it is:
English Ending
Italian Ending
English Word
Italian Word
-ity
-ità
"ability"
abilità
-tion
-ption
-ction
-zione
"station"
"action"
"corruption"
stazione
azione
corruzione
-ly
-mente
"legally"
legalmente
-ism
-ismo
"alpinism"
alpinismo
-ist
-ista
"dentist"
dentista
3 – Do You Know Another Romance Language?
If you've already studied another Romance language, such as Spanish, French, or Portuguese, learning Italian will be much easier for you. Just consider these factors: 
the alphabet is the same (and it's also the same as English's alphabet, by the way)
the vocabulary has a lot in common
the use of some tenses is similar across the board
the concept that everything has a gender remains intact
the concept of agreement also remains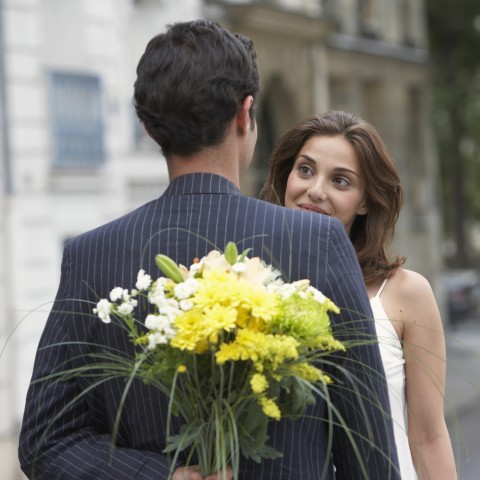 Are you ready for some Romance…languages?
Here are a few examples:
| | | | |
| --- | --- | --- | --- |
| Italian | Spanish | Portuguese | French |
| cantare ("to sing")  | cantar | cantar | chanter |
| dormire ("to sleep") | dormir | dormir | dormir |
| luna ("moon") | luna | lua | lune |
| mare ("sea") | mar | mar | mer |
So, if you know any of the words above, you'll definitely have a much easier time learning Italian than those not familiar with other Romance languages. Knowing another Romance language will give you a great advantage! 
4. Here's Why Italian is Hard to Learn
Like any other foreign language (I'm putting a little stress on the "foreign" part), Italian also presents some challenges to the learner. 
But I'm sure that you'll overcome these challenges with little problem. 
The important thing here is not to become overwhelmed because, with just a little study and practice, things will get much easier for you. Having said that, here are some of the things that make Italian hard to learn for some people, and that require a little more effort on the learner's part.
1 – Everything Has a Gender 
This might drive an English-speaker crazy, but it's quite common in many languages (and not only Romance languages, mind you!). Everything in Italian has an assigned grammatical gender, either masculine or feminine. 
We can all agree that it's hard to make sense of the criteria behind the assigned gender. Why is la sedia ("the chair") feminine, while il tavolo ("the table") is masculine? And if it makes sense that i pantaloni ("the pants") is masculine while la gonna ("the skirt") is feminine, can someone please explain why il vestito ("the dress") is masculine, but la giacca ("the blazer") is feminine?
The good news, however, which you might have already noticed, is that it's not too difficult to guess the gender of a word because the ending generally gives it away. 
If it ends in -o, it's masculine.
If it ends in -a, it's feminine.
2 – Everything Has to Agree 
Once you've gotten the hang of word gender, you have to start paying attention to all the other elements of the sentence that need to agree with it: articles, adjectives, past participles, etc.
It might seem like a lot of work at the beginning, but it's actually quite automatic after a while. You just remember that most of the ending vowels must be the same (unless it's one of those names or adjectives ending in -e):
L

a

mi

a

bell

a

cas

a

è spazios

a

e colorat

a

(ma mi è costat

a

carissim

a

).
"My beautiful house is spacious and colorful (but it cost me a lot)."
3 – Double or Nothing!
For a non-Italian speaker, it's always a bit difficult to hear the difference between a single or double consonant. They are very frequent in the Italian language, and sometimes missing the double can change the meaning of a word. For example:
pane ("bread") vs. panne ("breakdown")
cane ("dog") vs. canne ("canes")
copia ("copy") vs. coppia ("couples")
But even if it appears that only Italians are able to hear the difference, and they immediately know if it's one or the other, this is a minor mistake. One that we can all live with!
4 – The Subjunctive (And How to Survive Without It)
Many Italian students consider the subjunctive a true bestia nera (literally "black beast," referring to something nightmarish, something that everybody is afraid of). 

This is mainly due to the fact that it's virtually nonexistent in English. And besides, the rule on how to apply it isn't always crystal-clear. Basically, the subjunctive is used to express subjectivity, uncertainty, doubt, will, desire, etc. The subjunctive is very often introduced by the conjunction che ("that").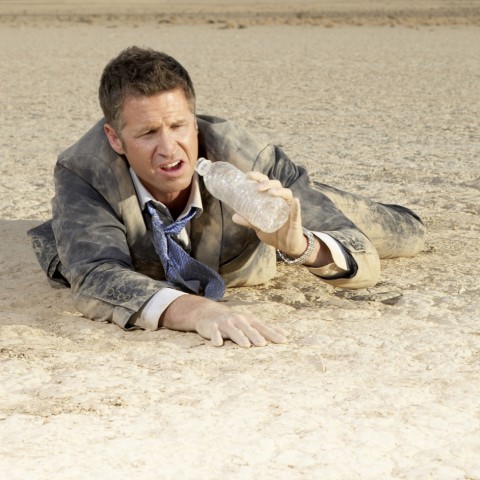 I bet he needs a Subjunctive Survival Kit!
But don't worry! Even in this case, there are little tricks you can implement to make life easier, such as:
Learning a few prefabricated sentence patterns:

Credo che sia giusto. ("I think it's fair.")
Penso che tu abbia ragione. ("I think you are right.")
Bisogna che i ragazzi si sveglino presto. ("It's necessary that the kids get up early.")
Learning the little tricks to avoid using the subjunctive altogether! 🙂

Credo che sia giusto. >> Secondo me è giusto.
Penso che tu abbia ragione. >> Per me hai ragione.
Bisogna che i ragazzi si sveglino presto. >> I ragazzi devono svegliarsi presto.
5 – What About the Rolled R?
Why haven't we included the rolled R among the challenging parts of Italian? Well, even if it stresses out some students, this is actually not a problem at all. Even some Italians can't roll their R (it's called erre moscia). And, don't worry, everybody will understand you, whether you roll it like a pro or just use your basic anglophone R.
5. I Want to Learn Italian. Where Should I Start?
So, now that we've got the challenging parts of learning Italian out of the way, it's time to give you some basic strategies to help you learn Italian in a quick, easy, and fun way.
1 – Learn the Basic Structure
You can start taking a course, going through a textbook, or using a great variety of free online resources, but from the very beginning, you should start paying attention to the basic patterns of the Italian language and practice with them. Start easy and keep adding more and more features as you go on. This way, you can go from making basic sentences to more complex ones. 
2 – Memorize the Top 100 Basic Words
One way to quickly get a grasp of Italian is to memorize the top 100 basic words. This will help you build simple sentences and start a conversation, and it will also make it easier to understand what you're hearing and reading. The best way is to learn words divided into categories that are related to your immediate environment. For example:
3 – Learn the Basic Conjugations
Verbs are the cement that keeps sentences together, so you might want to tackle them right away. It's true that, for an English-speaker (who virtually doesn't have to bother with conjugations in his/her language at all), Italian conjugation might seem like a lot of work. But you can start gradually, concentrating on what's most important. Here it goes, start with the present and past tense conjugations of: 
modal verbs: 

volere ("to want") 
potere ("to be able to") 
sapere ("to know how") 
dovere ("to have to") 
Okay, you're right, they're quite irregular and might be a bit complicated to memorize. But once you have them in your head, you'll be able to start speaking tons of different phrases right away. 
4 – Don't Be Shy
To learn a language, you have to practice, and to practice, you have to speak. So, once you've learned the basic structure, memorized the first 100 words, and are familiar with auxiliaries and modal verbs, it's time to take the plunge. 
So what if, in the beginning, you're using the wrong verb or mispronouncing a word? That's just part of the learning process! So, lose your inhibitions and shamelessly dive into a conversation with the first Italian you meet.
5 – Have Fun with it!
Learning a new language is like assembling a puzzle: it can be a very entertaining mental exercise. And the most fun part is that you get to "play" with a great variety of materials and media.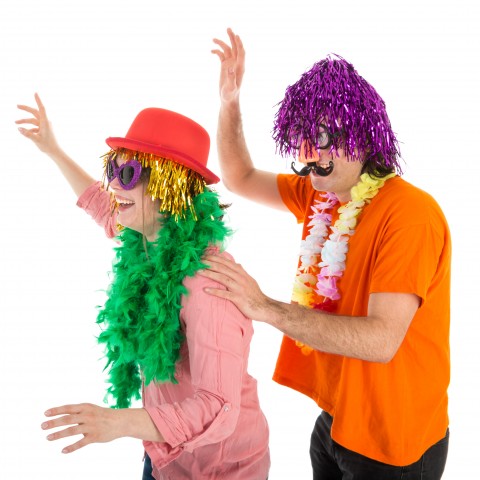 Time to lose your inhibitions and have fun learning Italian!
From the very beginning, you should try to read and listen to authentic material as often as possible: being exposed to the language is the best way to memorize vocabulary and patterns. And the best part is that you don't even realize that you're learning!
These are some excellent ways to get authentic Italian content: 
And don't worry if, at the beginning, you only understand about ten percent of what you're reading or listening to. Try to focus on keywords, pay attention to the articles, look at verbs and how they conjugate, look for words that are similar to English, and finally, listen or watch for the basic words you've recently learned. It's just like a Lego building: you keep adding different little bricks until you get the result you want.
6. Why is ItalianPod101 Great for Learning Italian?
Finally, what are the best tools for solving this wonderful puzzle? To put together all the pieces that, combined, will give you basic fluency? Because this is a complex task, the best strategy is to use all the tools you have available to you. 
And guess what? We have just the right tools to make your Italian-learning experience fast, easy, and fun. 
ItalianPod101.com is a great place to learn Italian, because we offer you a great variety of tools to ensure that you learn at your own pace, in your own time, and with an approach that's tailored to your needs and goals.
→  An Integrated Approach
One of the distinguishing traits of ItalianPod101 is that we offer an integrated approach. This means that each lesson combines activities based on the four basic language skills (listening, reading, writing, and speaking) using podcasts, videos, texts, and practice exercises. This combination allows you to learn in a very effective way because it's a natural approach—and much more fun than traditional learning methods!
→ A Great Variety of Free Content
ItalianPod101 offers so many resources for learners at every level that you're sure to find the tool that's best for your specific needs. You'll find grammar lessons, vocabulary lists, customizable flashcards, texts, videos, and audio lessons. It's all available on your computer, your smartphone and, in the case of our downloadable lessons, offline.
→ Premium Personal Coaching
If you're looking for something more personalized, ItalianPod101 has the perfect solution for you! With our Premium service, you'll enter the Fast Track to Fluency program and gain access to your own teacher and guided learning system.
Besides the regular lessons, you'll have direct interaction with your personal teacher, weekly assignments, and ongoing assessment of your progress. 
7. Conclusion
In this article, I wanted to show you that, even though there are some challenges when you start learning Italian, anybody can reach basic fluency with a little practice, no inhibitions, and—especially—the right tools.
How do you feel about trying to learn Italian now? More confident, or do you still have questions or concerns? Reach out to us in the comments, and we'll get back to you! 
We've selected for you a great variety of free resources covering all aspects of Italian grammar and vocabulary to help you in this adventure. We also provide flashcards to help you learn words in context and mobile applications so you can always have ItalianPod101 at hand.

So, don't be shy. Jump right into it, because learning Italian is easy with ItalianPod101!
November 13, 2020
Maybe you've already thought about taking an Italian proficiency test, or maybe you have no idea what we're talking about. In this article, we'll explain why it's important to take an Italian test like this one, and we'll guide you through everything you'll need to do to sign up and pass the most widely accepted proficiency test (CILS). By the time you're done reading, you'll be totally prepared for the big day—even if this is your first time hearing about the test.
Spoiler alert: You need to get started six months beforehand!
Table of Contents
1. What is a Proficiency Test?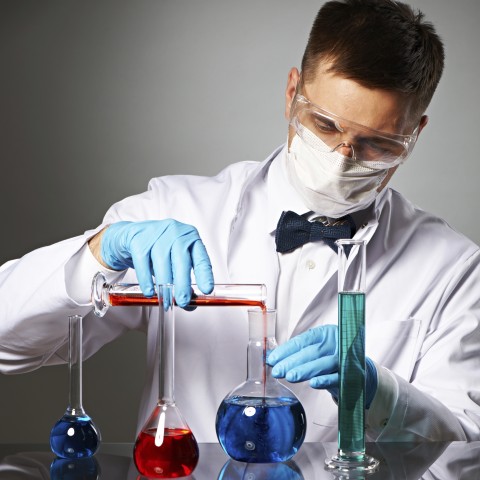 Are you ready to be tested…?
Nowadays, in order to attain any approved language certificate, you must first be tested on the four basic competencies (Reading, Writing, Listening, and Speaking). These tests are quite thorough; they might last a few hours, or even be spread out over the course of two days. Depending on where you are in your language studies, you would apply for one of the different levels (A1, A2, B1, B2, C1, C2). 
In regards to which exam to take, there are a few options for recognized certifications, each with just slight differences that mainly correlate with your final goal. Which takes us to the next question…
2. Why Take a Proficiency Test?
There are many reasons why you might want to take certain Italian exams or attain Italian language certifications: 
To check your progress
To look good on your CV
To qualify for a school, a university, a job, etc.
To apply for Italian citizenship (as of December 2018, a basic (B1) level of Italian is required to apply)
To be able to teach Italian
What's your motivation?
In this guide, we'll tell you all about the best-known and most-renowned certification, called CILS. We'll walk you through everything you need to know about these comprehensive tests, and try to answer your questions: 
What is CILS?
What should you expect?
How can you prepare?
Are you ready?
3. What is the CILS Certification?
The CILS Certification, or Certificazione di italiano come lingua straniera ("Certificate of Italian as a Foreign Language"), is a qualification officially recognized by the Italian state, based on an agreement with the Ministry of Foreign Affairs. It certifies students' degree of competence in the Italian language. 
Why do you need that? 
An official certification is often necessary for admission into Italian universities, and it could be helpful if you plan to have professional contact with Italy. This certification was originally devised by the Università per Stranieri di Siena, but today, it's administered all over the world. You can just choose a school or a university near you and take the exam there.
The certification follows the six levels of competence determined by the Common European Framework of Reference (CEFR) of the Council of Europe. Each level certifies your language ability, including whether you can communicate effectively in a specific social or professional context.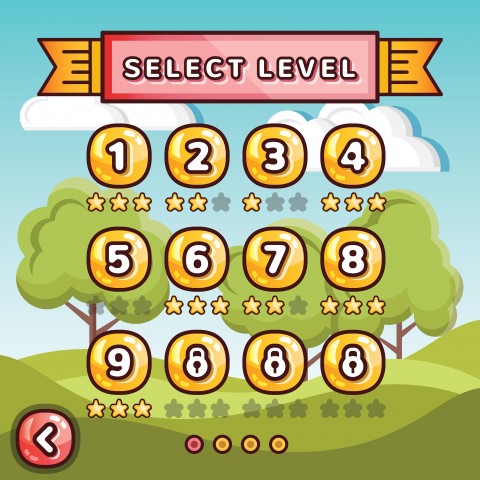 Choose your level carefully!
How do you know what level you're at and what test to choose for your certification? The first thing you should consider is what your current linguistic ability is and/or what level you need to achieve. 
The following table outlines the basic differences between the levels and what they correspond to in terms of communication and grammar knowledge:
Level
Description
You are able to:
Main grammar points
CILS A1
Beginner
It's intended for learners with initial skills in the Italian language. In this level, you find different exams tailored to the various types of students, as follows:

A1
A1 for integration into Italy
A1 children (eight to eleven years)
A1 teenagers (twelve – sixteen years)


The format is the same, but the content varies.
Understand short texts and use everyday expressions; 
Introduce yourself;
Ask and answer questions about personal topics;
Interact in a simple way





Articles and adjectives;
Feminine, masculine, plural;
Numbers;
Simple prepositions;
Regular verbs;
Essere e avere ("to be," "to have");
Modal verbs potere, dovere, volere ("can," "must," "want");
Present tense;
Passato prossimo ("present perfect") tense;
Imperative mood;Main adjectives and adverbs

CILS A2
ElementaryThis level certifies an initial competence, which still lacks autonomy from the communication point of view. 
Like the previous level, it's divided into different modules according to the student:


A2
A2 for integration into Italy
A2 children (eight to eleven years)
A2 teenagers (twelve to sixteen years)

Understand expressions frequently used in relevant personal and professional areas;
Communicate in simple exchanges on familiar and common topics, and exchange information;
Express opinions with ease; 
Make invitations and apologize

Si impersonal and reflexive;
Prepositions and articles;
Irregular verbs andare, bere, dare, dire, fare, stare, venire ("go," "drink," "give," "say," "do," "stay," "come");Use of passato prossimo vs imperfetto;
Complex sentences with prima di, invece, allora, infatti, non solo … ma anche, o, che, se ("before," "instead," "then," "as a matter of fact," "not only… but also," "or," "that," "if ")

CILS UNO-B1
IntermediateThis level certifies that the student has the skills necessary to use the Italian language independently and adequately in the most frequent situations of daily life. 
This is the certification needed to apply for Italian citizenship.
Communicate in Italian in everyday situations in both written and oral form in an effective way (even if with a few errors);
Understand the essential points of clear and articulated messages;
Read the most popular and useful texts

Position of the adjective;
Comparatives and superlatives;
Reflexive and relative pronouns;Possessive adjectives;
Demonstrative, interrogative, and indefinite pronouns;
Conditional mood;
Complex sentences: temporal, causal, declarative, and relative clauses

CILS DUE-B2
Upper-IntermediateThis is the level that certifies the full autonomy of communication. 
It's the minimum level ofcompetence for access to the Italian university system for students, teachers, andresearchers. It's also required to obtain scholarships or internships.

Understand the basic ideas of complex texts related to everyday or more abstract concepts;
Utilize effective oral and written Italian (even if with a few errors);
Interact easily during a stay in Italy or in work meetings

Ci, ne ("in here," "of it");
Passato remoto ("remote past");
FutureUse of the subjunctive (present and past, judgement and doubt)Impersonal verbs;
Past conditional;
Hypothetical phrases;
Implicit and explicit complex sentences

CILS TRE- C1
AdvancedThis is the level of mastery in Italian proficiency: It means that you can communicate formally for social, academic, and professional purposes. Those who possess this level are able to interact formally in public institutions or companies, and to fit in in any situation. 
Understand long and demanding texts and their implicit meaning
Talk spontaneously and fluently without searching for your words too much;
Use the language in an efficient and flexible manner at home, work, or school;
Express your opinions on complex topics in a clear and structured manner, having full control over the linguistic tools

Past subjunctive;
Gerund and past participle;
Passive voice;
Idiomatic verbs;
Complex sentences: consecutive, concessive, modal, incidental, exclusive, restrictive;
Direct and indirect speech

CILS QUATTRO-C2
Proficient
This is the level of full Italian language mastery. It means you can dominate not only all informal and formal situations, but also professional ones. 
It's the level necessary to teach Italian abroad.
Understand effortlessly anything you read or hear;
Summarize facts and arguments from various sources, written or spoken;
Express yourself fluently, mastering slight nuances in meaning

Pragmatic rules of informal contexts and formal communication; 
Social varieties of linguistic uses of Italian;
Full grasp of the sociolinguistic and sociocultural implications of native language



4. How to Get Started
So, if you made it this far, you're probably serious about taking a certification test. If so, pay attention to the next steps of CILS exam preparation:
1. Find the closest venue offering the test and get in contact with them for information. Do this at least a couple of months before taking the exam.

2. Plan well in advance. Once you take the test, you'll receive the results via email after a period of time that can vary from two to four months, depending on your level and the total number of candidates. So, it's better if you start thinking about your certification at least six months before you'll actually need it.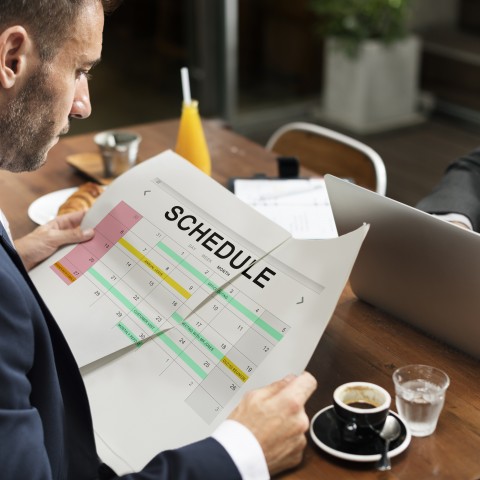 Plan in advance: six months should do!
4. DOs:
The exams typically start at 8:30. Be on time, or you'll lose the right to take the test;
You NEED to take a photo ID with you (the same one you used for the registration);
Bring a black pen (nothing else is allowed, and definitely no dictionaries or smart devices);
Before and during the test, make sure you listen carefully and follow the instructions, especially about how to fill the answer sheets.

5. DON'TS:
You cannot open the notebook before the start of the tests;
You cannot review or correct tests related to the previous sections;
You cannot move to the next section before the scheduled time;
You cannot ask for explanations on the content of the tests;
You cannot leave the room before the break, unless it's for a serious need (so, make sure you go to the bathroom in advance).
5. What to Expect on the Day of the Test
Like all language proficiency tests, CILS certification is based on the four main communicative abilities (Listening, Reading, Writing, and Speaking). In addition, it contains an analytic section. Here's how the exam is divided:
Ascolto ("Listening comprehension")
Comprensione della lettura ("Reading comprehension")
Analisi delle strutture di comunicazione ("Analysis of communication structures")
Produzione scritta ("Writing test")
Produzione orale ("Speaking test")
All levels have more or less the same structure, but obviously, the difficulty and complexity of the texts and contents are higher with each level. 
In this guide, we'll take into account only one of the levels: The CILS DUE B2. This is, in fact, the level where the student should have full autonomy in communicating without too many problems. It's also the level that gives the student access to schools and universities, and it allows the student to apply to most jobs requesting knowledge of the Italian language.
But keep in mind that all of the instructions and tips to prepare for and approach the exam are largely the same, regardless of level.
6. The CILS DUE-B2 Test
The total duration of the exam is almost four hours, but be prepared to do the speaking test on a different day, mainly for logistic reasons. The maximum score you can receive for this certification is 100 (20 for each section), while the minimum passing score is 55. But be careful: You need to get at least 11 in each section if you want to pass!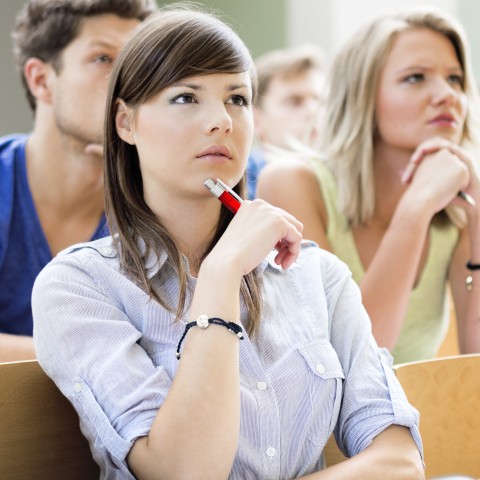 Listen very carefully to the CILS audio recording…
1 – The Listening Comprehension
Duration: 30 minutes, three exercises for a total of 20 points. Minimum passing score is 11 points. 
In the listening comprehension test, you'll hear a recording of a real-life dialogue at a regular speed. It can be a conversation, a telephone call, an interview, an instruction text, a radio program, etc., with two native speakers.
The recordings will be played twice, and the timing includes the instructions as well as the time to fill in the answers.
The test will be divided into three exercises in which you'll be asked to answer questions and identify information, typically in a multiple-choice format.
2 – The Reading Comprehension
Duration: 50 minutes, three exercises for a total of 20 points. Minimum passing score is 11 points. 
The reading portion tests your ability to understand the general meaning of the information presented to you. You should expect extracts from books, newspapers, magazines, works of fiction, catalogs, instruction manuals, publicity, etc.
The total amount of text that you'll need to read and understand is around 1200-1400 words.
There will be three parts, divided into a multiple-choice exercise, an exercise where you'll need to find information in a text, and one based on the reconstruction of a text, following the logical and temporal sequence. 
3 – Analysis of Communication Structures
Duration: 60 minutes, four exercises for a total of 20 points. Minimum passing score is 11 points. 
In this part of the CILS Italian exam, you'll have to be able to analyze, summarize, or transform a text. 
There will be four parts, which can be multiple-choice, cloze (where you need to fill in missing words), or completion tests, mostly based on vocabulary or grammar points.
4 – The Writing Test
Duration: 70 minutes, two tests for a total of 20 points. Minimum passing score is 11 points. 
In this part of the test, you'll have to produce two simple but well-structured written texts, showing that you're able to describe events and experiences through a cohesive and coherent text. You're also expected to clearly highlight the relationships between concepts.

There will be two sections. The first will be centered on a description or narration, the review of a film / book / show, etc. (from 120 to 140 words). The second is usually a formal or informal letter (from 80 to 100 words).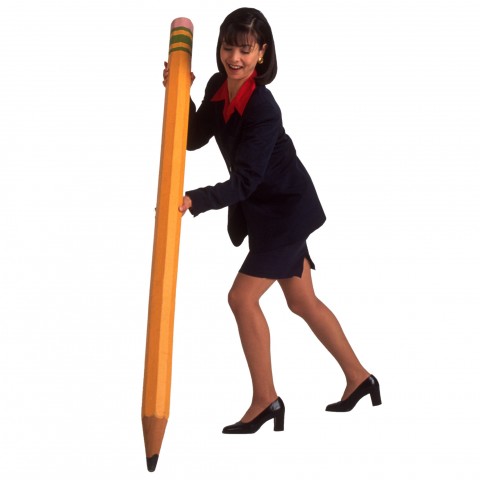 Do you find it hard to write? The secret is to practice, practice, practice!
5 – The Speaking Test
Duration: 10 minutes, two tests for a total of 20 points. Minimum passing score is 11 points. 
In the final part of the CILS test, you'll have to communicate effectively by having a coherent and well-structured conversation on a variety of situations. You can be asked to make a description, narrate an event, or express an opinion on various topics, clearly explaining your ideas and showing relevant examples. There will be two tests, both in the presence of an examiner: one monologue and one dialogue.
For the dialogue, you'll choose a topic among the three or four proposed to you, and the examiner will start asking questions. The duration of the dialogue should be around two or three minutes.
For the monologue, the student is asked to talk about one topic chosen from a short list, which can also contain pictures to illustrate. The duration of the monologue should be about two minutes.

7. Winning Strategies for Taking the CILS Exam
Read or listen to the instructions very, very carefully. They are the first step to a good performance.
1. Be calm and relaxed, but at the same time, keep track of the time. Every section has a given time limit, which is more than enough to complete the task—unless you stubbornly stop too long on a single question. If you're in doubt, make a mental note and come back to that question at the end of the section if you have time. 
2. Take a peek at the questions beforehand, so you'll have a basic notion about the topic and what you'll be asked about during the listening or reading comprehension sections.
3. Read the text very carefully, trying to understand as much as possible. And then read it again. Underline or write notes on a separate piece of paper to help you organize your thoughts and your ideas.
4. If you don't know an answer, try to guess it by exclusion. Sometimes, if you eliminate all the wrong or improbable answers, you'll be left with just the correct answer.
5. In the speaking sessions, there's often an initial part where the examiner asks personal questions (name, activity, origin, hobbies, etc.) to start assessing your level and to put you at ease. You'd better be ready and prepare a nice presentation about yourself! 
6. Keep it simple! Try to avoid overly complicated sentences and structures. Write what you know, and avoid translating from English at all costs! Remember all of the Italian sentence patterns that you already know and use them.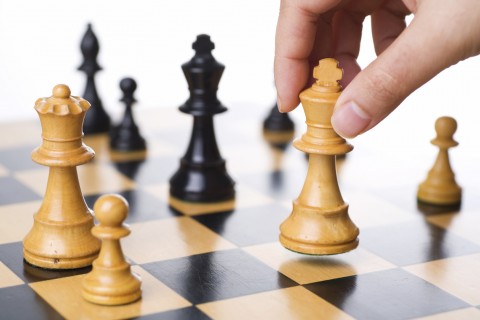 It's always important to have a strategy.
8. How to Prepare for the CILS Exam
There are many ways to prepare for the CILS exam. One of them is to take advantage of all the available resources that ItalianPod101.com offers. 
Another good way to practice is to go to the official CILS site and take a simulated test. There, you'll find a copy of a real test administered by the Università per Stranieri di Siena in 2012. You can also buy official books that will allow you to practice and study.
Be sure you have a good grasp of the grammar topics required for your level. And before anything else, search the ItalianPod101 database of grammar and vocabulary lessons.
Read as much as you can! Reading is a great exercise to expand your vocabulary and easily fix grammar structures and points in your mind. It will help you not only in the reading comprehension test, but in all of the other sections as well. Newspapers, magazines, books, letters—everything helps.
Listen to a wide variety of audios. You can find many online Italian radio shows and podcasts, or simply tune in to movies or series. Try to concentrate as much as possible, and maybe even listen with your eyes closed, to better understand what you're hearing. Getting used to listening to native Italian speakers will give you the necessary confidence for the listening and speaking portions of the test.
Practice writing. Lose your inhibitions and  write as often as you can. Keep your sentence patterns simple, but be effective and precise with your vocabulary. It can be very useful to use spell-checkers and translators, mainly to verify that your sentence is written correctly in terms of conjugation, spelling, agreements, etc.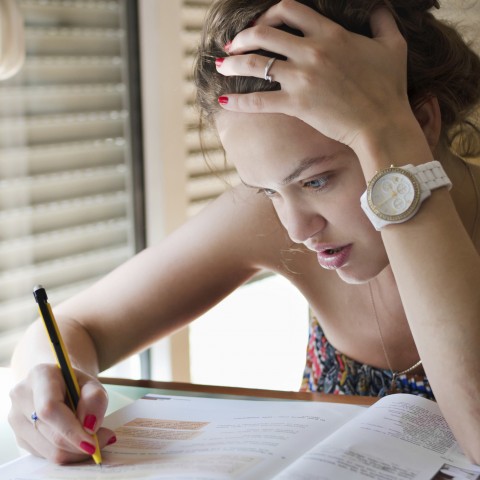 Just three words: Practice. Practice. Practice.
9. Conclusion
So, do you have everything you need to embark on this adventure and take the CILS certification test? 
Whatever your strategy, know that you'll always be able to count on a variety of ItalianPod101 resources: vocabulary lists, audio podcasts, grammar lessons, and much more.

Remember that you can also use our premium service, MyTeacher, for one-on-one interaction with your personal teacher, guidance, and ongoing assessment. You'll receive personalized exercises (reading, writing, and speaking) with non-stop feedback, answers, and corrections, so you'll be ready for your B2 in no time—all while having fun!