Tutte le strade portano a Roma. ("All roads take you to Rome.")
If you plan to visit Italy, you might as well start in the nation's political and cultural capital. Another popular saying—Roma, città eterna ("Rome, the eternal city")—sums up its unique historical importance and beauty. Rome is a multilayer city with immense artistic treasures and historical architectures that will make you dream of walking through the Ancient Roman Empire, the Baroque and Renaissance periods, and everything in-between.
Before you plan a visit to Rome, though, you'll have to do your research. And that's where we come in. In this article, you'll learn what to expect and where to go for the best experience!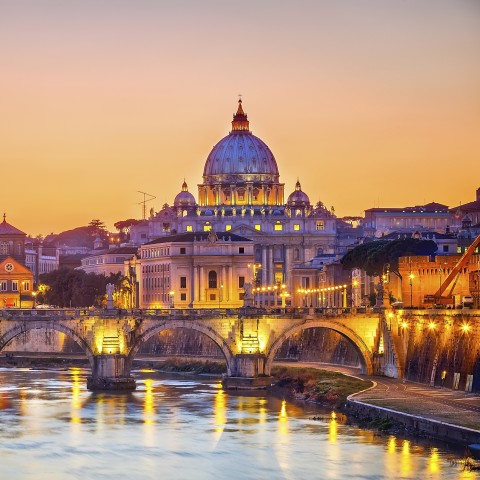 Rome, Eternal City
Table of Contents
Before You Go
The history of Rome, the one that everybody knows, starts with a bang! At one time, Rome was on top of the known world. At its peak, the Roman Empire spread from North Africa to England, and from Portugal to the Balkans, and lasted around five centuries.
In Latin, you would say: Roma caput mundi. ("Rome top of the world.")
The wonderful thing is that you can still get a pretty good feel of Rome's grandeur just from walking by the imperial ruins. But even with its size and majestic past, Rome is still a very easy-going city. A nice place to take a walk, yet full of mysteries and surprises.
As the capital city of Italy, Rome hosts all of the Italian government organizations such as the Parlamento ("Parliament") and the Presidenza della Repubblica ("President Headquarters"). Also, the headquarters of Italy's many political parties are here. So if you see a lot of very serious people, dressed mostly in blue and going around with an escort and many newspapers under their arms, you can guess who they are. In Italy, these locations are often referred to using the name of the building, so be aware of these terms:
il Quirinale: where the President is
Montecitorio: the Chamber of the Deputies
Palazzo Chigi: the house of the Prime Minister
Palazzo Madama: where the Senate meets
Rome is a big and vibrant metropolis that incorporates the quintessential aspects of the Italian character and lifestyle: warm, welcoming, easy-going, happy, a bit loud, and a bit chaotic. Finally, let's not forget that it is here where the concept of La Dolce Vita was born and beautifully eternalized by the great Federico Fellini. And if you want a more recent portrait of this beautiful city, watch the other acclaimed movie La Grande Bellezza ("The Great Beauty") before visiting.
→ If you're a fan of Italian cinema, don't miss a visit to Cinecittà, the largest film studio in Europe. And yes, it's in Rome!
Even if it's not the top of the world anymore, you need to keep in mind that Rome is huge! While you can walk and get pleasurably lost in some neighborhoods, you still need some sort of transportation to get from one part of the city to another. Driving is definitely not the easiest thing to do in Rome, as the traffic can be bad and the Roman drivers are…unruly and a bit reckless.
Our suggestion is to opt for public transport. Or better yet, buy a tour bus ticket and have a guided overview of all the sightseeing attractions in Rome while comfortably sitting on the bus. Later, you can go back on your own to spend more time in the parts of the city you're more interested in.
Rome is blessed with mild weather, which makes it very pleasant to walk around—and even stay outside—all day. Still, the best time to visit Rome is in the spring or in the autumn. It won't be as hot as it is in the summer months (July and August), but it's still warm enough to stay outside all day (and all night).
La dolce vita… ("Sweet life…")
In principle, you should find fewer tourists during the off-seasons. But because Rome is visited by around nine million people each year, you have to be ready to endure lines in most places—and you might have to wait to be served your spaghetti carbonara.
How much money do you need to travel to Rome? Of course, that depends on your budget and your traveling style. If you're a backpacker, you can get by with around $50 per day. This takes into account staying at a hostel (check out the Ostelli della Gioventù), eating lots of pizza slices with plain water, getting around by foot and bus, and paying for certain attractions. But if you love traveling luxuriously, then your budget can swell up to $265 per day.
And talking about money, you should carry euros with you or pay with your international debit or credit card. You should be able to easily draw cash from a Bancomat ("cash machine") or uffici di cambio ("exchange offices"). Whatever you do, don't assume that you can take out your dollars or pounds to pay for an espresso or your favorite newspaper! Besides, who wants to calculate exchange rates, make conversions, and check to see if anyone has made a mistake (or is trying to be smart…)?
What else to bring to Rome? Here's what we recommend:
Sunglasses, because being outside all day under a perfect blue sky can really tire your eyes
A small umbrella in case of rain
Multiple layers of clothing to be ready for any temperature
Your favorite ItalianPod101 app to help you polish your Italian on the go 😉
Must-See Places for a 1-3 Day Trip
Even if you have just a few days in Rome, there is still a lot that you can see and experience. The absolute must-see attractions if you're just passing by for one day are:
The Roman ruins
The Colosseum
The Roman Forum
The beautiful Trevi Fountain
The Spanish Steps
Piazza Navona
St. Peter's Square in the Vatican City
Plan to visit Rome by night? Then you can enjoy an osteria ("tavern") in Trastevere.
But really, just one day in Rome is not enough. So here's a packed (but more enjoyable) three-day itinerary.
Ancient Rome
The best way to start your visit in Rome is by experiencing the ancient ruins and its most famous (and most-visited) monument. Once there, you'll find yourself in front of a colossal structure that will immediately conjure up images of gladiator fights and exotic wild animals. And then, just a few strolls away, you'll be immersed in a different time—it will feel as if you were walking around in a toga, going to meet with Julius Caesar!
1 – Colosseum
The Colosseum is Rome's most famous monument and one of the most-visited in all of Europe. In addition to being the world's largest amphitheater, it's also a UNESCO World Heritage Site (along with the entire historic center of Rome).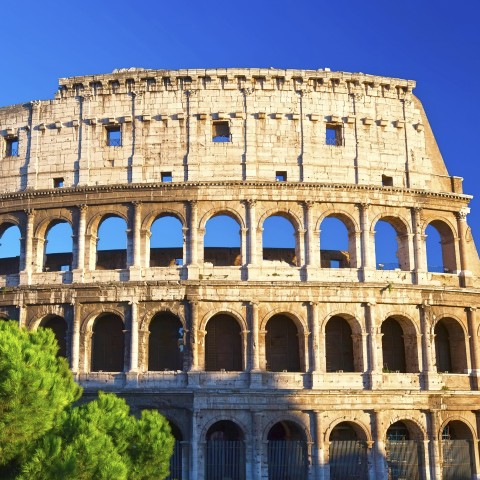 Timeless beauty
It was built around 80 AD and could hold an average of 65,000 spectators. There, they observed not only gladiator fights but also impressively hi-tech shows for the time, such as mock sea battles (where the whole theater was entirely filled with water!) and dramas based on Roman mythology.
The Colosseum clearly reflects the architectural and construction concepts of the early Imperial Age. This is particularly evident in its use of curved and enveloping lines offered by the oval plan, and in the structural relationships of arches and vaults.
So, enter this truly colossal structure and let yourself be enveloped by the density of the emotions the spectators of Ancient Rome felt. Also be ready to endure two inevitable—and rather annoying—features around the Colosseum: long ticket lines and fake Roman centurions asking you for money in exchange for a tacky picture. You can avoid the first nuisance by buying the tickets online via this site. As for the second nuisance…sorry, you're on your own for that!
2 – The Roman Forum and Palatino
The Roman Forum is a lovely sight, and its location right next to the Colosseum makes it very easy to visit both places on the same day. It used to be Rome's political, juridical, religious, and economic center. It can be defined in all respects as the beating heart of Ancient Rome.
In the early days of the Republic, this was a chaotic place with food stalls, brothels, temples, and the Senate house. The food stalls were eventually replaced by shopping malls and courts, and the Forum became a ceremonial center under the Empire. Here, all the monuments, temples, and basilicas were concentrated. Today, you can even admire what remains of the temple built in honor of Julius Caesar.
The beating heart of ancient Rome
Not far from the Forum, you can visit the Palatino ("Palatine Hill"). It's one of the seven hills of Rome and constitutes the oldest part of the city. It is a real open-air museum! According to Roman mythology, Romulus and Remus, the famous brothers suckled by the she-wolf who became the founders of the city, came to light on the Palatine Hill.
In any case, the Palatine Hill remains one of the most evocative places in the city, as it was the home of the ruling class of Ancient Rome and, later, of the Farnese family gardens. The pleasant green of the rich vegetation envelops the vestiges of the past and accompanies people on this historical journey. And from here, the view is just breathtaking.
3 – Trastevere
After a whole day among stones and ruins, nothing beats a cool night out in Trastevere. Rome can be a great lively city, but Trastevere shows that it has never lost its village atmosphere. It's a colorful neighborhood along the Tevere, the river that cuts through Rome.
It used to be a working-class area and today is a funky, bohemian spot. It's known for traditional and innovative trattorias, craft beer pubs, artisan shops, simple B&Bs, and budget hotels.
Here, you'll find the intimate side of the capital. It's a place of pastel red buildings with green ivy that hangs down from the facades of the houses, and squares full of cafes and pizzerias, with "front row" seating to observe the river and the life that flows around it.
Sunset on the Tevere
4 – Campo dei Fiori
Another option for spending your night is Campo dei Fiori, probably the oldest market in Rome. Every morning since 1869 (except on Sunday), the square has been filled with colorful stalls selling fruit, vegetables, meat, poultry, fresh fish and, as a matter of fact, fiori ("flowers").
During the day, Campo dei Fiori is really the right place to buy Roman specialties or to stock up for a nice picnic in a park. But at night, the square turns into one of the meeting places for nightlife, the perfect place to enjoy a drink or something to eat in the many outdoor cafes and restaurants.
Vatican City
Vatican City is definitely one of the best things to see in Rome. It's a town in its own right, and is in fact a different state. When you enter St. Peter's Square or the Vatican Museums, you cross the state border from Italy to the Vatican. It's a very little state, considering that, apart from the Pope, it has only another 850 or so citizens, most of them being cardinals, diplomats, and guards.
Despite its small size, the Vatican City is visited every year by thousands of tourists, either for religious reasons or to get a glimpse of its many artistic treasures.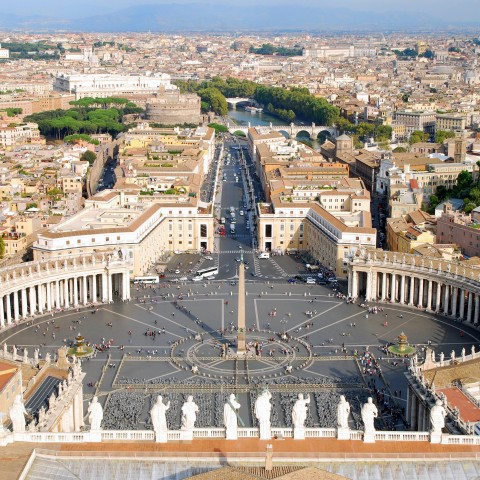 View from the top of the Basilica
5 – Piazza San Pietro e i Musei Vaticani
Once in the Vatican, you cannot miss St. Peter's Square and the Basilica. The square is huge and from its center, you can see the most famous windows in the world, the ones from which the Pope looks out of every Sunday to give his blessing to thousands of followers. It's also the window from which the most well-known sentence in Latin is announced after the successful election of a new head of the Catholic Church: "Habemus Papam…" ("We have a new Pope…").
St. Peter's Basilica is the largest church in the world and it's considered one of the most sacred Catholic shrines as, according to tradition, Saint Peter's tomb is supposedly right below the high altar of the basilica.
If you can, don't miss the chance to go to the top of the dome, where you'll have a fantastic view of the whole city, as well as the chance to see the Basilica and the square from above.
To visit the Vatican Museums, it's best to arrive very early and/or to buy a skip-the-line ticket because it gets very crowded around midday. There is a lot to see and you can easily spend the whole day there, but you can opt to "limit" your visit to the Sistine Chapel and the fabulous Double Helix Staircase. If you have limited time or the lines are too long, keep in mind that you can also try a virtual tour.
→ Word of caution: Shorts, mini-skirts, and tank tops are not allowed in most churches, so think about the right dress code before visiting the Vatican…
6 – Castel Sant'angelo
A nice walk from St. Peter's Square, the Castel Sant'Angelo was originally built as a mausoleum for the emperor Hadrian and it has overlooked the Tiber River for almost two thousand years. In this time, it has evolved from its initial role as a tomb, becoming a fortress, then a castle, and finally a museum.
Today, it's open to the public and you can climb to the top for a splendid view of the city. You'll also be able to admire the construction techniques that have allowed it to survive for two millennia.
From mausoleum to castle to museum
Central Rome
7 – Piazza Navona
Piazza Navona is among the most famous places to visit in Rome, built on commission from the Pamphili family. It is the best example of Roman Baroque style. Like many piazze in Rome, this location boasts a lovely central fountain. This was sculpted by Bernini and is enriched with an Egyptian obelisk made of a unique block of stone where the four largest rivers in the world are represented.
If you happen to visit Rome during Christmas or the other winter holidays, don't miss the traditional market and street artists.
8 – Pantheon
The Pantheon is an imposing temple dedicated to all the Roman gods, originally built in 27 BC! It is a unique building due to its shape and dimensions.
The House of all Roman gods
The Pantheon has a circular shape, in front of which there is a classical colonnade. The dome has the particularity of not being completely closed: there is an opening at the top, called oculus ("eye" in Latin), that functions as a sundial—the sun, passing through the oculus, marks the passing of the hours and seasons. And when it rains? Well, the inside gets wet but, thanks to a series of holes in the floor, the water flows away.
The dome of the Pantheon is considered the biggest in the world, with a diameter of over 43 meters and a weight of 5000 tons. It's considered among the largest in the world, and it undeniably constitutes a masterpiece of engineering and architecture, especially if we take into account the period in which it was built.
9 – Fontana di Trevi
From the Pantheon, you can easily get to the Trevi Fountain. Over the years, this fountain underwent many changes and was rebuilt several times, but the final version presents us with another great example of the Roman Baroque style.
It is one of the symbols of the Eternal City, as well as the largest and most spectacular of the Roman fountains with a width of 20 meters and a height of 26 meters. This extraordinary work celebrates the wonderful and changing world of water. Approaching la piazza, you can already hear the sound of the water, which creates a breathtaking view as it flows from the white stone.
There are many legends told about the famous Trevi Fountain, but the best known is certainly the one that claims if you throw a coin into the fountain (strictly from over your shoulder), you will surely return to Rome. And a lot of people throw coins in this fountain; an estimated one and a half million euros are collected each year from the fountain. Where does it all go? A part goes to the Caritas and a part to the maintenance of the city's cultural heritage.
Don't do this, unless you want to get a fine!
And of course, there's the cinema, Fellini, Mastroianni, Anita Ekberg, and La Dolce Vita. But don't try to imitate that, or you'll get a fine!
10 – Piazza di Spagna (Spanish Steps)
To wrap up our trip around the ten must-see places in Rome, let's go to Piazza di Spagna. Another masterpiece of Baroque architecture, it opens at the end of the luxurious Via Condotti and, in the center, the Barcaccia Fountain and the majestic Spanish Steps.
The fountain was built by Bernini and owes its shape to a legend that says a real boat was found there, perhaps brought by a strong flood of the Tiber. Barcaccia, in fact, means "the big ugly boat."
The monumental 136-step staircase was built in 1725 to connect the church of Trinità dei Monti, located at the top, to the Spanish Embassy in the square. The best time to visit is in the morning, because of the beautiful light, especially on spring days with blue skies when the staircase is covered with azaleas!
The staircase was to be used not only as a passageway, but as a place to stop and sit. However, a new regulation has recently come into force that prohibits sitting (and especially eating) on the ladder, so be careful!
A night out, Italian style
Survival Italian Phrases for Travelers 
Now for the elephant in the room: Can you visit Rome without knowing Italian?
In Rome, there will be people speaking English at most tourist attractions (though possibly with a thick Roman accent), but don't expect that everybody on the street or in small venues and stores will be able to understand. This is actually good news, because you will be able to practice your Italian. And ItalianPod101 will be with you all the way!
Here is a list of essential survival phrases in Italian for your trip:
Buongiorno!
Buonasera!
"Hello!" / "Good morning!"
"Good evening!"
Arrivederci.
"Goodbye."
Grazie (mille).
"Thank you (very much)."
Non parlo Italiano.
"I don't speak Italian."
Per piacere. / Per favore.
"Please."
Scusa. / Mi scusi.
"Excuse me."
Mi dispiace.
"(I am) sorry."
Dov'è il bagno?
"Where are the toilets?"
Può ripetere per favore?
"Can you repeat (please)?"
Quanto costa?
"How much is it?"
Vorrei questo.
"I would like this."
Parla inglese?
"Do you speak English?"
These are just some basic phrases to help you get by. For more on this topic, be sure to check out our survival guide on Italian Travel Phrases.
When in Rome… (Common Slang Expressions Used in Rome)
While walking around the Roman Forum or sipping a beer in Trastevere, you might hear some Roman expressions that you don't understand. This is because people in Rome use a lot of colloquial slang called romanesco. It's not a dialect, just a collection of common expressions used in Rome.
Here are the six most common expressions that you might hear during your visit:
| | | |
| --- | --- | --- |
| Aò!  | Ciao! | "Hello!" |
| Ammazza! | Addirittura! | "Wow!" |
| Daje!  | E dai! | "Come on!" (irritated) |
| Anvedi! | Guarda! | "Check it out!" |
| Annamo. / 'Nnamo.  | Andiamo. | "Come on." / "Let's go." |
| Mortacci tua / 'tacci tua | A highly offensive, but very common insult. You will hear it a lot, but don't use it! 😉 | "Your ancestors" (cursing) |
Conclusion
After reading this guide, you're ready to visit one of the most wonderful cities in the world: Rome! When you go, tell us all about your adventures in the comments below. Did you discover any hidden treasure? Were you able to practice your Italian (or even your romanesco)?
In any case, make sure to explore ItalianPod101.com, as we have plenty of free resources to help you practice your grammar and learn new words before you visit Italy. And when you go, don't forget to bring with you our awesome mobile apps. Our vocabulary lists are another great way to review words and learn their pronunciation.
Happy learning, and enjoy your travels in Rome!