Culture is a broad concept encompassing all things relevant to a certain group. 
If you're studying the Italian language or planning to visit Italy, it's extremely important to understand their habits, traditions, and ways of thinking. This is where our Italian culture overview comes in! We'll inform you about Italians' social behaviors, education, beliefs, arts, laws, and everything else that's considered important in Italy. Essentially, we're giving you the key to the soul of the Italian people. As you'll soon see, culture is everything!
But what makes Italian culture unique? Well, Italy has been the heart of the Roman Empire and the seat of the Catholic Church, as well as the meeting point of many Mediterranean civilizations. This has steeped the nation in a wealth of knowledge and layers of historical influence. In addition, Italy has been the heart of many artistic movements, and it's been considered one of the most flourishing cultural centers of Europe since ancient times.

Italy has a vibrant culture. Old and new coexist side by side, and not only because ruins from ancient times sit alongside metro stations or because you can see a Ferrari parked right next to an Ape Car selling fruits and vegetables. Since the Roman Empire times, tradition and innovation have always been important parts of the Italian culture.
Table of Contents
1. Values and Beliefs
When you think of Italians, I'm sure that a very clear image comes to mind. This is because Italian culture is so widely known around the world that others' perception of it sometimes ends up being a caricature. But in Italian culture, values and beliefs are the pillars of society. Here are just a few core truths of Italian culture:
→ Family is very, very important and it is at the core of all Italian life.
→  Italy is statistically old-aged and Italians hold elderly people in a position of respect, valuing their history and knowledge. People often rely on elders for help.
→ Sociability is important, and Italian people are sociable and outgoing. They like to form strict groups in which members help each other. Social life in Italy revolves around meals. There are even specific words used to indicate special social eating events with friends, such as aperitivo (an after-work get-together) and spaghettata (a late-night improvised pasta dish with friends). 
→ Italians like to argue. Not necessarily to quarrel and fight, but just to argue for the sake of arguing. They argue about everything, but their favorite topics are of course politics, soccer, and food. It's not by chance that Italy has hosted many famous philosophers, from Pitagora to Cicero and from Machiavelli to Gramsci—and many others in-between!
→ Work is very important, and Italians have always been a hard-working people. That said, they're also well-known for their dolce far niente ("pleasant idleness") and bella vita ("good life") lifestyle. The importance of work for Italians is best expressed by the first article of the Italian Constitution, which states: L'Italia è una repubblica democratica fondata sul lavoro. ("Italy is a democratic republic founded on work.")

→ Curiosity and innovation are definite Italian culture characteristics, having driven explorers (Christopher Columbus, Marco Polo) and inventors (Leonardo da Vinci, Galileo Galilei) as well as, in more recent times, the fashion and design industries.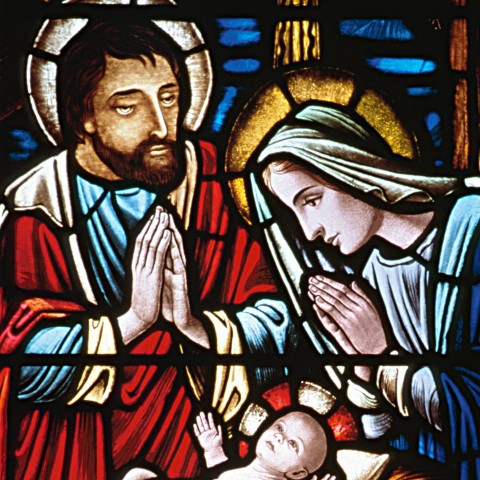 The family and the church: the two main institutions in Italy.
2. Philosophies and Religions
Italy has long been the center of the Catholic world, since the day when Saint Peter settled in Rome and served as the first leader and bishop of the Catholic church. The Vatican is here and the church has always had a direct or indirect influence over Italian life and politics (especially in the past).

Perhaps the most influential person among spiritual leaders has been Saint Francis of Assisi, who is still often referred to as a role model for simple living and harmony with nature. The grandeur and influence of the Catholic church are evident in the beauty and number of churches, cathedrals, and domes that you can see everywhere, from major metropoles to small villages.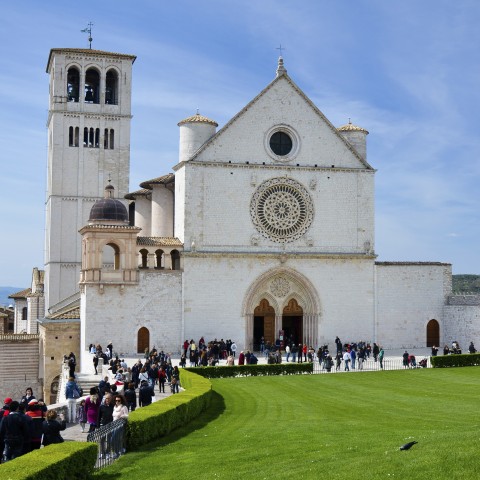 A church at every corner!
But even in the past, the church has often originated free thinking and rationalistic thought, both of which have surged to counteract the immense cultural power of the Catholic church. This explains the great number of philosophers and scientists that have populated the peninsula since ancient times, through the Middle Ages and Renaissance until today.
Nowadays, this influence is decreasing, especially since there has been a gradual distancing from Catholic rituals among young people. In addition, migration and new social mobility have introduced people of other religions. Recent statistics show that religion in Italy is increasingly diverse, with 80% of Italians being Catholics, 15% having no religion, and 5% belonging to a different religion (many of them Muslim from the migratory waves from North Africa). 
→ Start expanding your Italian vocabulary with our free list of Religion names in Italian!
3. Family and Work
Family is the core of Italian culture and traditions. Food, holidays, day-to-day life…everything revolves around the institution of family. Despite having lost a little of its power as an institution in recent years, it's still central to the Italian culture and way of life.
Families are tight. Grandparents often take care of their grandkids, and sons and daughters live at home even if they've already started their professional careers. After all, living with mamma e papà ("mom and dad") is sooo comfortable, why leave?
Italian families also argue and fight a lot. For proof of that, you can just check out the immense quantity of dramas and comedies about dysfunctional families, usually gathered around a table at some traditional event.
Arguments are often due to the fact that Italian parents are very protective of their children and they want to take care of their children's education, work, finances, and feelings. Even as adults, Italians like to ask for their parents' opinions and to involve them in very personal matters.
At work, Italians tend to recreate a family-type group. Community, gossip, fun, and empathy all go on at once in an Italian workplace. Italians are very hard-working, but they try to carry out their tasks with a smile and by mixing work with pleasure (l'utile e il dilettevole).
The Italian job market is quite unstable and Italians often end up working in the family business or having to look for better opportunities abroad. This is something that Italians have done for centuries, often populating and helping to develop other countries.
4. Art 
Italy is art! 
This is something that Italians can really be proud of, as the country hosts the highest number of UNESCO World Heritage Sites (55). Not to mention that half of all the world's greatest artwork is in Italy! 
It's no wonder the Stendhal syndrome was born here: the French author/poet was visiting Florence when he experienced a rapid heartbeat, sense of fainting, and confusion due to being exposed to too many beautiful things. Italy is home to more than 100,000 monuments, churches, cathedrals, archaeological sites, houses, and statues, not to mention all of the paintings, frescos, and sculptures in the museums.
In Italian culture, art has always been an essential aspect of life. One of the reasons why Italy has so much art could be traced back, once again, to the presence of the Vatican and to the great power (and money) that the Church had from the Middle Ages on. Often, in fact, Popes and Cardinals were the ones that ordered and paid for artwork intended to celebrate God and the Church itself. This is how many Italian cities, such as Rome, Florence, and Milan became known for big artistic centers where artists gathered in search of fame and commissions.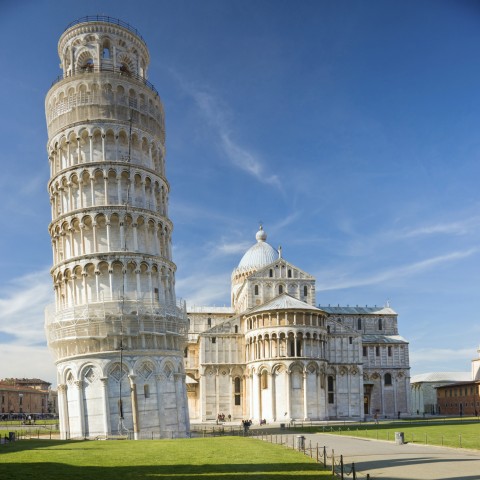 Mmm…something is not quite right here…
Another artistic area that is strongly representative of Italian culture is music. Music is everywhere and Italians like to sing and dance. It's not by chance that many of the words used to talk about and describe music come from Italian. Also, many of the classical instruments, such as the piano and the violin, were invented in Italy.
Italian music is very melodic and often dramatic. In the 1800s, Italy contributed to the world of music by creating the most memorable of all classical music styles: the Opera! Verdi, Rossini, Puccini…who doesn't know of them and their music?
If art is your thing, Italy is the place to be.
5. Food 
"Food" and "Italian" are two concepts that just go naturally together. 
Italy is home to both the simplest, traditional home cuisine, and the most sophisticated and starred dishes. It's the typical yin-and-yang characteristic of Italian life: buono e bello, utile e dilettevole, lavoro e piacere ("good and beautiful, useful and delightful, work and pleasure").
In Italy, food is at the center of celebrations and family gatherings. In the past, the most important meal was il pranzo ("lunch"). It's still common for families to get together around a table on Sundays to celebrate il pranzo della domenica ("Sunday's lunch") with the typical succession of antipasto, primo, secondo, contorno, frutta, dolce e caffè ("appetizer, first course, second course, side dish, fruit, dessert, and coffee").

Meals on special occasions can go on for hours. Eating is not just about food and nourishment, but rather about pleasure, indulgence, and being with loved ones to share in each other's joys.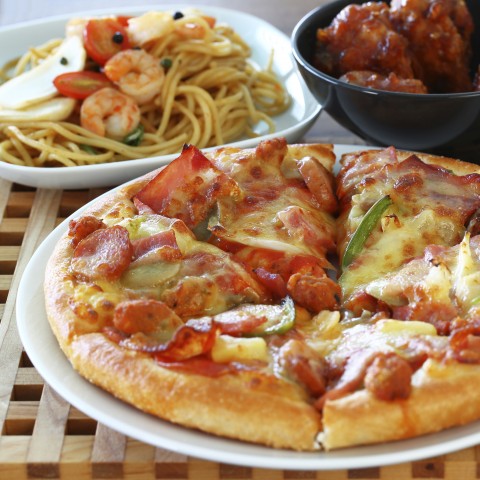 Pizza, spaghetti, gelato, espresso: Italian culture at its best!
Italians are extremely proud of their gastronomy, and every region, city, and village boasts its unique cuisine. Flavors and traditional preparation methods are very important; Italians try as much as possible to preserve and protect their culinary products. This is what the acronyms DOP, DOC, and DOCG stand for: they certify that the origin of a specific product is protected, checked, and guaranteed. You'll often find these acronyms on wine and cheese products.
There are probably four things that immediately make people think of Italy: pizza, spaghetti, gelato, and espresso. And what else do you need in life?
6. Traditional Holidays 
Holidays are an important part of Italian culture, and they end up combining all of Italy's best cultural aspects. 
Holidays are when families gather around special, traditional, and seasonal foods. Most holidays in Italy have a Catholic origin and these traditions are often honored in theatrical religious functions or rituals. 
In Italian culture, holidays are the perfect "excuse" to bring out the best of the Dolce Vita, that particular way Italians enjoy life to its fullest. Italians usually celebrate all major holidays with family, gathered around the table. There's a popular saying regulating which holiday you should spend with family: Natale con i tuoi, Pasqua con chi vuoi ("Christmas with your family, Easter with whoever you want").
Some of the traditional holidays are very typical of Italy, such as la Befana. This is the Epiphany on January sixth, when an old and ugly lady on a flying broom brings candies to children. Another popular holiday is Pasquetta, the Monday following Easter Sunday, when tradition calls for a picnic in the countryside.

Another very Italian holiday is Ferragosto on August 15, which is a celebration of the end of summer. If you're traveling through Italy on Ferragosto, beware that everything is closed, nobody is around, and the country is practically shut down for the holiday.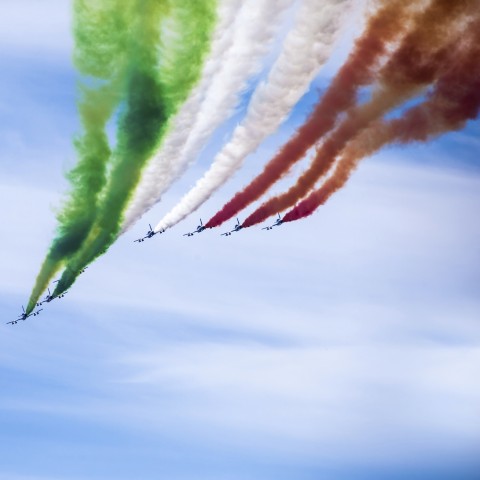 The Frecce Tricolori during a June 2 celebration
As far as national celebrations go, two very important dates are: 
April 25: La festa della liberazione ("Liberation Day") 

On this date, we remember Italy's liberation from the fascist regime.

June 2: La festa della Repubblica ("The Day of the Republic")

On this date, we remember when Italy became a Republic by means of a Referendum in 1946.
7. Conclusion
In this guide, we showed you the most important aspects of Italian culture, from its core values to religion, social life, history, art, food, and holidays. Do you have any questions about something we covered? Are there any other cultural aspects you would like to learn about? If so, leave a comment below and we'll be happy to elaborate!
And remember: Culture and language go hand in hand, so diving deeper into the Italian culture will help you learn the language (and vice-versa!).
Another sure way to improve your Italian is to explore ItalianPod101.com and take advantage of all our free resources to practice the language and improve at your own pace. You can learn with a great variety of vocabulary lists and even with apps for your phone.
And if you want a more personalized teaching approach, check out our Premium PLUS service, MyTeacher. You'll get personal one-on-one coaching with your private teacher who will help you practice with personalized exercises. He or she can also record audio samples for you to help with pronunciation, and review your own recordings.
Happy Italian learning!