Bella giornata, vero? (Nice day, isn't it?)
How many times have you heard somebody start a conversation this way? Talking about the weather is, in every language, the typical topic that friends, acquaintances, and even perfect strangers often choose as a conversation starter.
In Italian, it's no different. Talking about the weather is the perfect way per rompere il ghiaccio (to break the ice). This is why it's so important to have all the vocabulary tools for talking about the weather (in Rome, Italy, or elsewhere).
In this article, you'll learn practical Italian weather vocabulary, how to describe weather in Italian, the various weather conditions in Italian provinces, and how to talk about weather in Itallian like a native! Let's get started.
Table of Contents
1. Italian Weather Words
First of all, to talk about weather, Italian vocabulary words that relate to the local climate conditions are essential. Italy has a moderate clima mediterraneo (Mediterranean climate), so you shouldn't expect any extreme weather conditions. But given its peculiar geography, the weather in Italy can be quite varied, depending on where you are. Still, no need to know words such as tifoni, uragani, or tornado (typhoons, hurricanes, or tornadoes).
Here's basic weather vocab Italians use often to talk about the weather conditions you're likely to encounter when traveling in Italy. One thing that you should definitely pay attention to is the specific gender of the word (most are feminine, by the way).
| | | | |
| --- | --- | --- | --- |
| Il sole (m) | "the sun" | Il sole in agosto è troppo forte. | "The sun is too strong in August." |
| il cielo (m) | "the sky" | Il cielo è sereno. | "The sky is clear." |
| le nuvole (f) | "the clouds" | Vedo molte nuvole all'orizzonte. | "I see many clouds on the horizon." |
| la pioggia (f) | "the rain" | La pioggia ha ripulito l'aria. | "The rain cleaned the air." |
| il temporale (m) | "the storm" | È il tipico temporale estivo. | "It's the typical summer storm." |
| la neve (f) | "the snow" | Quest'anno c'è poca neve. | "This year there is little snow." |
| la nevicata (f) | "the snowstorm" | È la nevicata del secolo. | "It is the snowfall of the century." |
| il vento (m) | "the wind" | Il vento soffia forte. | "The wind is blowing hard." |
| la nebbia (f) | "the fog" | Con questa nebbia non si vede niente! | "You can see nothing with this fog!" |
| la foschia (f) | "the mist" | La foschia arriva dal mare. | "The mist comes in from the sea." |
| la grandine (f) | "the hail" | La grandine ha danneggiato i vigneti. | "Hail damaged the vineyards." |
| la grandinata (f) | "the hailstorm" | Nessuno aveva previsto questa grandinata. | "No one had foreseen this hailstorm." |
| i tuoni (m) | "the thunder" | I tuoni mi fanno paura. | "Thunder scares me." |
| i fulmini (m) | "lightning" | I fulmini illuminavano la notte. | "The lightning lit up the night." |
This list provides you with the basic weather Italian words you'll need. Do you want more? Have some fun with an ItalianPod101 video about weather words.
2. Talking about Temperature and Seasons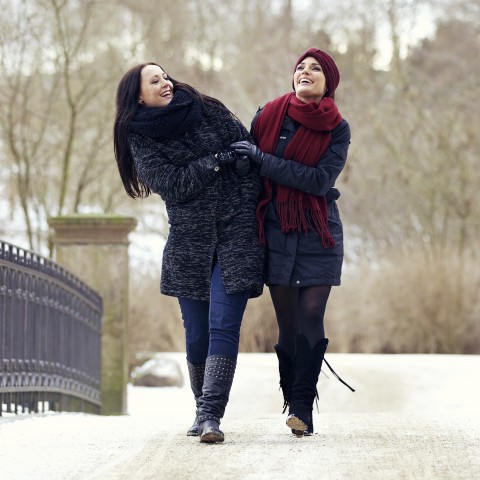 La neve? Solo al nord ("Snow? Just in the north")
If you've ever wondered "What is the weather like in Italy in December or May?", then first of all, you should consider where you're going to be (north, south, by the sea, in the mountains…) as weather in Italian regions varies greatly: the weather in Milan, Naples, and Florence are nothing alike.
And seasons lately aren't as defined as they used to be… But still, here are some phrases for types of weather in Italian regions based on season. This should give you a good base to carry out the perfect conversation about seasons and weather in Italian:
1- Spring Weather in Italian
La primavera (spring) is that fantastic season when the weather starts getting warmer and all the flowers are in bloom, although it can still be rainy. No wonder it's inspired many musicians and painters!
Here's a phrase to talk about warm weather in Italian:
In primavera le giornate sono tiepide.
"In the spring, days are warmer."
2- Summer Weather in Italian
L'estate (summer) is generally quite warm. The Italian weather in summer can be humid or dry, depending on the city. It rarely rains, so it's the best time of the year to enjoy a trip to Italy. Here are some suggestions of things to do in Italy when the weather is nice and hot.
Here's a phrase to talk about hot weather in Italian:
Le estati sono secche, ma attenti agli acquazzoni!
"Summers are dry, but watch out for downpours!"
3- Autumn Weather in Italian
L'autunno (autumn) is when it starts getting colder and rainy, and children go back to school.
Here's a sentence to describe the autumn weather:
In autunno comincia a piovere e cadono le foglie.
"In the fall, it starts raining and leaves are falling."
4- Winter Weather in Italian
L'inverno (winter) is cold and rainy. This may be when you experience the most wet weather in Italian regions. However, when it comes to Italian weather in winter, it rarely snows in the south or at sea level.
Here's a phrase to talk about cold weather in Italian:
In inverno nevica al nord e sulle montagne.
"During winter, it snows in the north and in the mountains."
3. The Most Common Sentence Pattern to Talk about the Weather in Italian
Now it's time to go over some common weather phrases Italian, and useful sentence patterns.
Che tempo fa? Che tempo c'è? (What is the weather like?) These two expressions are the most common way of asking about the weather in Italian, and they both mean the same thing.
Notice how, to talk about the weather in general, you can either use fa (literally "it makes" when translated) or c'è (there is).
| | |
| --- | --- |
| Fa caldo / C'è caldo | "It's hot" |
| Fa freddo / C'è freddo | "It's cold" |
| Fa bello / C'è bel tempo | "It's nice" |
| Fa brutto / C'è brutto tempo | "It's bad weather" |
You can use this same pattern to describe more extreme weather in Italian with these common colloquialisms:
Oggi fa un freddo cane!
Literally: "Today it's dog cold."
Meaning: "It's extremely cold."
In Agosto c'è un caldo da morire!
Literally: "In August, it's hot to die."
Meaning: "It's terribly hot."
In some situations, weather adjectives in Italian use c'è (there is), but they don't work with fa (it makes). These are:
C'è vento (It's windy)
Chiudiamo la finestra, c'è troppo vento!
"Let's close the window, it's too windy!"
C'è nebbia (It's foggy)
Quando c'è nebbia in Val Padana, non si vede niente.
"When it's foggy in Val Padana, you can't see anything."
C'è foschia (It's misty)
Quando c'è foschia non si vede l'orizzonte.
"When it's misty, you can't see the horizon."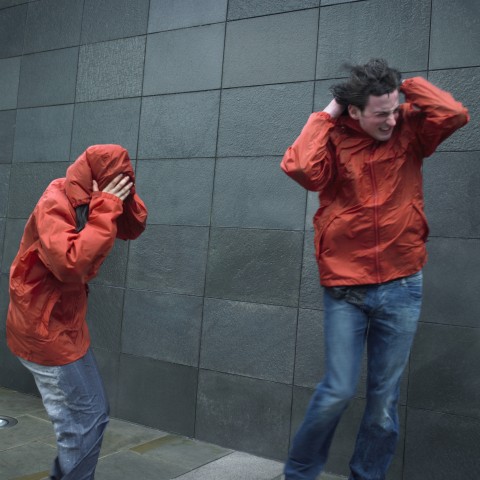 If you're talking instead about weather events such as rain, snow, and hail, you just need to put the verb in the impersonal form (3rd person singular):
Piove (It rains)
Se piove prendo l'ombrello.
"If it rains I'll take the umbrella."
Nevica (It snows)
I bambini escono a giocare quando nevica.
"Kids go out and play when it snows."
Grandina (It hails)
Se grandina, si rovina il raccolto.
"If it hails, the harvest will be ruined."
Other weather-related events are expressed in Italian with the impersonal si, where si means "everyone," or "one":
– si soffoca (one suffocates), which translates to "It's so hot, you can barely breath."
– si gela (one freezes), which translates to "It is freezing."
– si muore di freddo (one dies from the cold weather), which translates to "It's terribly cold."
Italians aren't very fixated on registering temperatures, so the conversation rarely focuses on the exact degrees on any particular day. But if you do want to learn about telling the weather in Italian based on temperature, you use the verb c'è/ci sono (there is/there are).
The most common mention of temperature in Italy is when it's very hot (and people talk of a generic 40º C) or very cold, and people start saying that the temperature va sotto zero (goes below zero).
Remember that in Italy, temperatures are registered in Celsius and not Fahrenheit.
– Che caldo! Ci saranno 40 gradi…
"It's so hot! Must be 40º…"

– Fa un freddo cane! Sicuramente il termometro va sotto zero.
"It's freezing. Surely the thermometer goes below zero."

– Ci sono 20 gradi sotto zero.
"It's 20 below zero."
4. The Most Common Ways of Discussing the Weather in Italian
Talking about the weather is not only a great conversation starter, or an easy way to fill uncomfortable silences, but it's also the perfect occasion for complaining, giving motherly recommendations, and worrying about global climate changes…
No matter the season, Italian moms can't help but worry about what their children are wearing and whether it's appropriate for the season:
– Fa freddo, vestiti pesante.
"It's cold, dress up warmly."

– Hai messo la canottiera?
"Did you wear an undershirt?"

– Hai messo le calze di lana?
"Did you wear woolen socks?"
Another typical conversation when talking about weather in Italian often revolves around climate change and how the weather is very different than it was a few generations ago. In this respect, the typical conversation opener, especially among older people, is:
Non ci sono più le mezze stagioni.
Literally: "There are no more mid-seasons."
Meaning: "Autumn and spring aren't as mild as they used to be."
Quando ero piccolo, in inverno nevicava tutti gli anni.
"When I was a kid, in the winter it used to snow every year."
From these comments, you can easily get involved in a broader conversation (or dispute) about cambiamenti climatici e riscaldamento globale (climate change and global warming).
Especially if you're on the phone or on a long-distance chat, here's a very common opening line to get information about the weather in the other person's country: Che tempo fa da te? (What's the weather like over there?)
And then each person goes about describing weather in Italian respective to where they are using some of the weather expressions Italian we went over earlier. Then they may continue complaining about climate change or about how you never know what to wear…!
And finally, of course, the most popular weather conversation of all is to get the weather forecast.
– Che tempo è previsto per domani?
"What is the forecast for tomorrow?"

– Quali sono le previsioni del tempo per il fine settimana?
"What is the forecast for the weekend?"
Notice how you can say it in two ways (tempo previsto / previsioni del tempo), which both mean "weather forecast." The forecast is particularly important if you're planning an excursion or going out with friends. Especially if you need to decide in advance what you're going to wear, or what you're going to bring on your trip! And you know, as Italians, style and clothes are always important. Even during un acquazzone (a downpour)! You can practice hearing the weather forecasts at your own pace right here!
5. Popular Sayings about the Weather
In Italian economy and culture, agriculture has always been very important, and people used to depend on the weather to ensure their livelihood. Depending on the weather in Italian regions, people could assume the best or worst for the year. So it's no surprise that there are a lot of popular sayings related to climate events: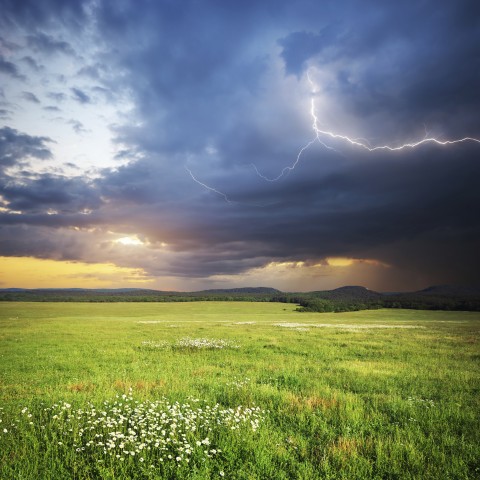 In marzo, vedi il sole e prendi l'ombrello ("In March, see the sun and take the umbrella")
– Marzo pazzo pazzerello, vedo il sole prendo l'ombrello.
"March is a little crazy, see the sun and take the umbrella."
Meaning: The month of March has unpredictable weather.

– Piove sempre sul bagnato.
"It always rains on the wet ground."
This is the Italian counterpart of the English phrase "It never rains, but it pours."

– Piove a catinelle.
"It's raining buckets," or "It's raining cats and dogs."
Meaning: It's raining an awful lot!

– Tempo da lupi
"Wolf weather"
Meaning: The weather is so bad that only wild wolves are around.

– Fare il bello e il cattivo tempo.
"To decide the beautiful and the bad weather."
It corresponds to the English phrase "to rule the roost."

– Rosso di sera, bel tempo si spera.
"Red at night, good weather awaits."
It's popular knowledge that if the sky is red in the evening, it means that the weather is going to be good the next day.

– Rosso di mattina, il mal tempo si avvicina.
"Red in the morning, bad weather is getting near."
The second part of the popular rhyme says that if the sky is red in the morning, the weather is going to be bad.

– Piove, governo ladro!
"It rains, blame the government."
This popular exclamation, that might even have originated in Roman times, is an ironic way to blame the government for everything. Even for rain!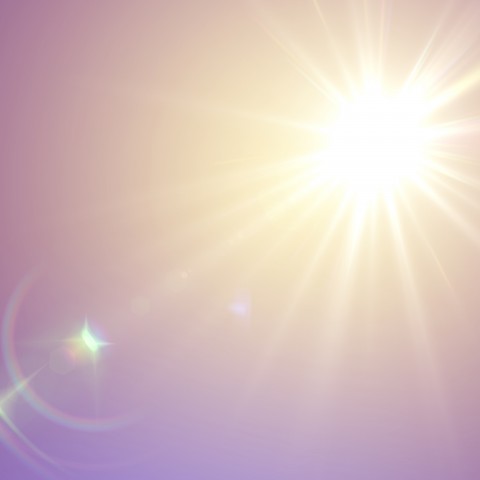 Il solleone ("Scorching sun")
And there are different words to describe specific instances of the same event:
– Piove (It rains) vs. Pioviggina (It rains very lightly)
          – This one's great for talking about drizzly weather in Italian!
– Pioggia (rain) vs. Pioggerella/Pioggerellina (A very light rain)
– Sole (sun) vs. Solleone (Literally, "sun lion," meaning "scorching sun" when translated.)
– Freddo (cold) vs. Freddino (Just a little cold)
– Caldo (hot) vs. Calduccio (A nice and cozy warmth)
6. How ItalianPod101 Can Help You Master Italian Conversation
Congratulations! Now you've learned expressions to talk about the weather in Italian and you're ready for any conversation, planning a short trip, or to deciding what's most appropriate to wear. Hopefully you're prepared whatever the weather in Italian regions you go to. But don't stop now! It's time to have more fun and dive deeper into ItalianPod101.com.
With all the hard work you're putting into your language-learning journey, don't be surprised if you're speaking fluently in no time! Best wishes!
Che tempo fa? (What's the weather like?) Practice your weather descriptions in Italian and let us know what the weather is like in your country!
March 27, 2020
Palm Sunday in Italy is a major occasion around the country, with many unique religious celebrations. In this article, you'll learn the basics about Palm Sunday, Italian traditions for this holiday, and some relevant Italian vocabulary.
Let's get started!
1. What is Palm Sunday?
On Palm Sunday, Italian Christians celebrate Jesus' entrance into Jerusalem as described in the Bible. According to the Bible, he entered riding a donkey and people from the city welcomed him by throwing down palm branches in his path. This took place exactly one week before his Resurrection from the dead, which is celebrated as Easter one week after Palm Sunday.
In Italy, Palm Sunday is also largely associated with plants, particularly the palm tree and olive branch.
2. When is Palm Sunday in Italy?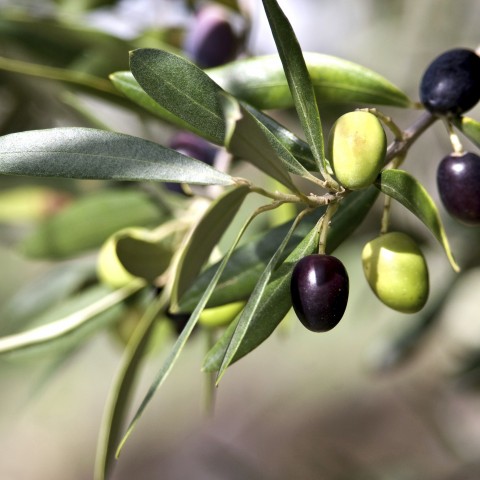 The date of Palm Sunday varies each year, along with Lent and Easter. For your convenience, here's a list of this holiday's date for the next ten years:
2020: April 5
2021: March 28
2022: April 10
2023: April 2
2024: March 24
2025: April 13
2026: March 29
2027: March 21
2028: April 9
2029: March 25
3. How Does Italy Celebrate Palm Sunday?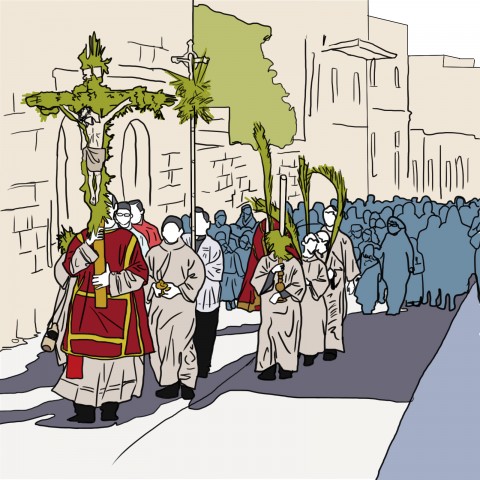 There are many unique Palm Sunday traditions in Italy. One such tradition is that of attending the Mass and receiving a palm branch (ramo di palma) or olive branch (ramo d'ulivo) there. Usually, the branches are bundled together right outside the church. For the Mass, it's common for a priest to knock on the church doors three times, which is a symbol of Christ's entry into Jerusalem.
At around nine-thirty in the morning, the Pope visits St. Peter's Square in Rome. In the square, there's a procession of people carrying palm or olive branches, which leads to the steps of St. Peter's Basilica where the Mass takes place. Over the duration of the procession, the Pope and other clergymen give a benedizione, or "blessing," to those carrying the branches.
Throughout Italy, many people may celebrate Palm Sunday—and the entirety of Holy Week—with some nice, home-cooked dinners. Some examples of popular Italian Palm Sunday dinner items include stracciatella soup, lamb, and Italian Easter bread.
4. World Youth Day
Did you know that in Italy, Palm Sunday has also been deemed World Youth Day according to the Christian calendar?
Because of this, the Pope's Palm Sunday message is often geared toward the youth of today and the problems they face as they relate to Christianity.
5. Essential Italian Palm Sunday Vocabulary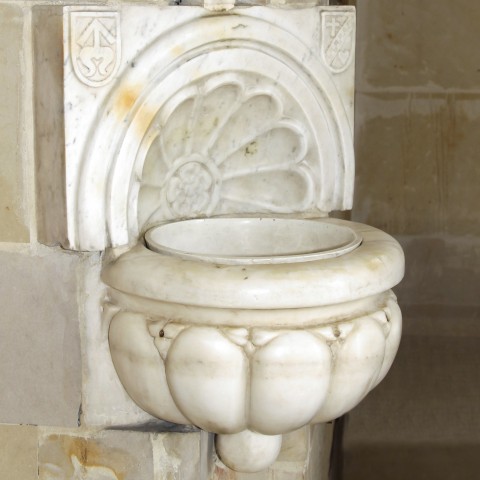 Ready to review some of the vocabulary words from this article? Here's a list of the most important words and phrases for Palm Sunday!
Ramo — "Branch"
Palma — "Palm tree"
Benedizione — "Blessing"
Ramo di palma — "Palm branch"
Passione — "Passion"
Seconda domenica di passione — "Second Passion Sunday"
Acqua santa — "Holy water"
Ulivo — "Olive"
Ramo d'ulivo — "Olive branch"
Processione — "Procession"
To hear the pronunciation of each word, and to read them alongside relevant images, check out our Italian Palm Sunday vocabulary list!
Final Thoughts
We hope you enjoyed learning about Italian Palm Sunday traditions with us, and that you took away some valuable cultural information.
Do you celebrate Palm Sunday in your country? If so, are celebrations similar or quite different from those in Italy? We look forward to hearing from you in the comments!
If you're fascinated with Italian culture and can't get enough, we recommend that you check out the following pages on ItalianPod101.com:
That should be enough to satisfy your thirst for Italian cultural knowledge for a little while, but for more fun resources on all things Italian, create your free lifetime account today.
We look forward to having you! 🙂
March 24, 2020
Adjectives, in any language, are what we use to better describe what we're talking about. They give color and meaning to our words. So, learning the top 100 Italian adjectives right away will help you quickly improve your conversation skills.
If you check an Italian grammar book or website, you'll find out that there are many types of them:
Demonstratives: questo; quello — "this; that"
Qualificatives: bello; brutto — "nice; ugly"
Possessives: mio; tuo — "my; your"
And there are many others!
Try and memorize a big list of Italian adjectives and their opposites. Let's have fun with easy grammar lessons and exercises on how to use Italian adjectives with ItalianPod101.com. Andiamo! (Let's go!)
Table of Contents
1. Italian Adjectives Rules: How Do You Use Italian Adjectives?
First things first: Do Italian adjectives agree?
Yes, they need to agree in gender and number with the noun they refer to (and with the verbs, too!). So, when you're speaking or writing, pay attention to the noun and note if it's singular or plural, and masculine or feminine. And then, don't forget to make the ending of the adjective and the noun agree, as in: una bella casa or "a nice house."
Now, do adjectives come before or after nouns in Italian? In terms of position, the Italian adjective generally follows the noun. Yes, this is the opposite of what an anglophone is used to, so you'll have to pay special attention to remember where to place the adjective in a sentence.
But, as you know, Italian grammar can have quite a few exceptions, and some adjectives can appear either before or after the noun, with a slightly different meaning.
This is the case with some of the most common Italian adjectives, the ones that you'll find yourself using all the time. There isn't a fixed rule for when you can invert the order, but here's a tip: The adjective put after the noun is denotative (the meaning is literal). The adjective put before the noun is connotative (the meaning is figurative).
That's why it's very important to practice, practice, practice…can you guess the difference between the phrases listed below? If not, check this lesson!
bello*
"beautiful; nice"
Un bel giorno / un giorno bello
"A nice day"
buono**
"good; tasty"
Un buon amico / un amico buono
"A good friend"
bravo
"good; able"
Una brava ragazza / una ragazza brava
"A good girl"
brutto
"ugly; bad"
Un brutto film / un film brutto
"A bad movie"
caro
"dear; expensive"
Una cara amica / una amica cara
"A good friend"
cattivo
"bad"
Un esempio cattivo / un cattivo esempio
"A bad example"
giovane
"young"
Un giovane attore / un attore giovane
"A young actor"
grande
"large; great"
Una grande montagna / una montagna grande
"A big mountain"
lungo
"long"
Un viaggio lungo / un lungo viaggio
"A long trip"
nuovo
"new"
Un nuovo libro / un libro nuovo
"A new book"
piccolo
"small; little"
Una piccola casa / una casa piccola
"A small house"
stesso
"same"
Il giorno stesso / lo stesso giorno
"The same day"
vecchio
"old"
Un vecchio palazzo / un palazzo vecchio
"An old building"
vero
"true"
Un vero amore / un amore vero
"A true love"
*This adjective follows the same rule as the definite articles il, lo, i, gli, la le, so it changes its form according to the noun that follows, as in these examples:
Un bel libro, as in il libro
"A nice book"
Un bello sport (lo sport)
"A nice sport"
Che begli occhi! (gli occhi)
"What beautiful eyes!"
Dei bei ragazzi (i ragazzi)
"Some good-looking boys"
This irregular adjectives rule does not apply if you place the adjective after the noun, as in un libro bello (a nice book).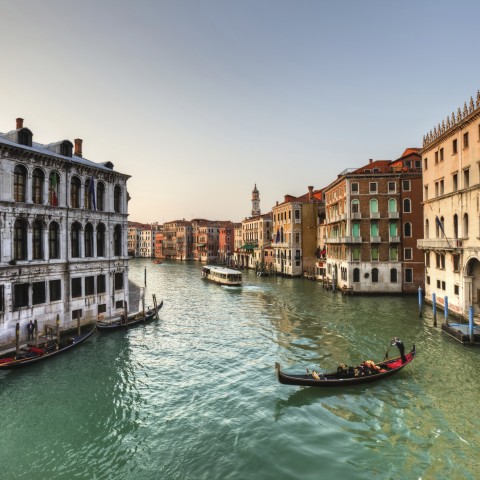 Una bella giornata a Venezia ("A beautiful day in Venice")
**The adjective buono (good; tasty) follows the same rule as the indefinite articles un, uno, un', una, so it changes its form according to the noun that follows, as in these examples:
Un buon amico, as in un amico
"A good friend"
Una buona scuola (una scuola)
"A good school"
Sei una buon'amica (un'amica)
"You are a good friend."
This irregular adjectives form does not apply if you place the adjective after the noun, as in un amico buono (but in this case, the meaning is a little different as it means "a good-hearted friend").
Other irregular Italian adjectives are grande and santo ("big" and "saint" respectively). In front of a masculine noun starting with a consonant, they change into gran and san:
Tuo papà è un gran signore
"Your dad is a great gentleman."
Quella è la statua di San Tommaso
"That is Saint Thomas statue."
A very common use of adjectives is with the auxiliary verb essere ("to be"), in simple sentences such as: il mio gatto è bello ("My cat is nice.").
In the case of demonstrative, indefinite, or possessive adjectives, as in most other languages, they always come before the noun:
Il mio gatto
"My cat"
Questo gatto
"This cat"
Alcuni gatti
"Some cats"
2. Italian Adjectives List of the Top 100+ Italian Adjectives
Ready to learn Italian adjectives? Here's our list of the most common Italian adjectives you should know, with their meanings and example sentences!
1- Describing dimensions, sizes, distance, number, and frequency
Among the most common and useful Italian adjectives are those that we use to describe how things are, relative to dimensions, distance, frequency, etc.
The best way to learn adjectives and memorize their meaning is to pair them up with their opposites:
grande / piccolo — "big" / "small"

These can also be used in the sense of "older" / "younger": Quando ero piccolo volevo fare l'astronauta or "When I was young, I wanted to be an astronaut."

largo / stretto — "wide" / "narrow"

These adjectives are used in Italian both for physical description, such as a for a street, or they can be used to mean "large" / "tight" as in clothes:

La strada era molto larga.
"The road was very wide."

Questi pantaloni sono un po' stretti.
"These pants are a bit tight."

alto / basso — "tall" / "short" or "high" / "low"

These opposite adjectives are also used to describe two different kinds of qualities, as they can refer to the height of something like a person or mountain, to volume, or even to moral qualities:

Mia sorella è più bassa di me.
"My sister is shorter than me."

Il volume della musica è troppo alto.
"The music volume is too high."

pesante / leggero — "heavy" / "light"

Ho il sonno molto leggero.
"I have a very light sleep."

vicino / lontano — "close" / "far"

Non ti sento, sei troppo lontano
"I can't hear you, you are too far."
When we're describing quantities, we can't do without indefinite adjectives, which are used to talk in general terms without being too specific about the exact amount (of things, people, etc.). That's why they're called "indefinite." There are many indefinite adjectives in Italian, but the most commonly used are:
Alcuni — "some" [always plural]

Alcuni bambini piangono sempre.
"Some children cry all the time."

Poco — "little" / "few"

Pochi giorni fa
"A few days ago"

Molto — "many"

A Firenze ho visitato molti musei
"In Florence I visited many museums."

Ogni — "each" [invariable + singular]

Vado in Italia ogni anno
"I go to Italy every year."

Qualche — "some" / "a few" [invariable + singular]

Ho qualche idea.
"I have a few ideas."
Indefinite adjectives, like possessive adjectives, can become adverbs if they're used alone without a noun. You might want to check the rules on them.
2- Describing value
Whenever we talk, we're always prone to judge the people or things around us. These useful Italian adjectives describe what we think about their value, and will help us in our conversations about them.
buono / cattivo — "good" / "bad"

As in English, this adjective has a double meaning, both moral and relative to taste.

Pinocchio è diventato un bambino buono.
"Pinocchio became a good boy."

Questo gelato è molto buono.
"This ice cream is very good."

bello / brutto — "beautiful" / "nice" and "ugly" / "bad"

Ho fatto un brutto sogno.
"I had a bad dream."

fantastico / terribile — "amazing" / "awful"

Oggi è una giornata fantastica.
"Today is an amazing day."
3- Describing feelings & senses
Italian adjectives for sensations and feelings, or for physical descriptions, are often used around the kitchen. These, for example, are the progression of adjectives linked to temperature:
Gelato — "icy" / "frozen"

Vado a pattinare sul lago gelato.
"I go swimming on the frozen lake."

Freddo — "cold"

La zuppa è diventata fredda.
"The soup got cold."

Tiepido — "warm"

La sera bevo del latte tiepido.
"At night I drink warm milk."

Caldo — "hot"

Preferisco il té caldo.
"I prefer hot tea."

Bollente — "scalding"

Attenzione, l'acqua è bollente!
"Watch out, the water is scalding."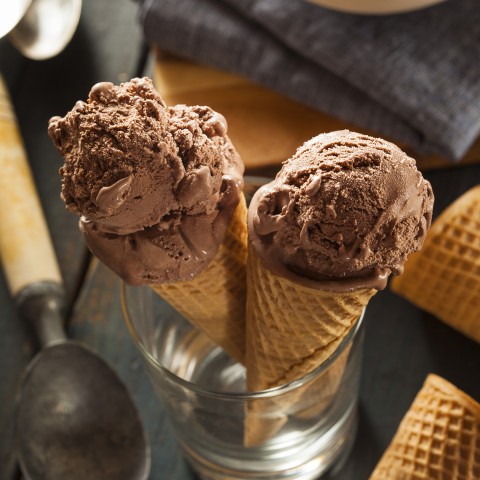 Did you know that Gelato means "frozen"?
Other adjectives refer to the sense of touch, such as:
morbido / duro — "soft" / "hard"

Questo letto è molto duro.
"This bed is very hard."

liscio / ruvido — "smooth" / "rough"

Hai una pelle incredibilmente liscia!
"You have incredibly smooth skin!"

piacevole / doloroso — "pleasant" / "painful"

È un ricordo doloroso.
"It is a painful memory."
4- Describing personalities, human behaviors, and feelings
The range of people's personalities, behaviors, and feelings are countless. And Italians definitely belong to one of those cultures that like to show their feelings and have no problem exposing their personalities in public! Let's see the most common Italian adjectives to describe people. Try a little exercise to describe yourself!
Positive words 🙂
Gentile — "kind"

Sei molto gentile.
"So kind of you."

Aperto — "open-minded"

Giulia ha una mentalità aperta.
"Giulia is open-minded."

Divertente — "fun"

Questo viaggio è stato divertente.
"This trip was fun."

Comico — "funny"

È comico: mi fa proprio ridere.
"He is funny: he makes me laugh a lot."

Felice — "happy"

Sono felice di vederti.
"I am happy to see you."

Contento — "glad" / "pleased"

Anch'io sono contenta che tu sia qui.
"I am also glad that you are here."

Negative words 🙁

Triste — "sad"

Non essere triste!
"Don't be sad!"

Solo — "lonely" / "alone"

Oggi mi sento solo.
"Today I felt lonely."

Notice how the verbs such as "I feel" (mi sento) are reflexive in Italian, and need to be conjugated with the reflexive pronouns.

Arrabbiato — "angry" / "mad"

La mia amica è arrabbiata con me.
"My friend is angry at me."

Matto / pazzo — "crazy"

Sto diventando matto…
"I am going crazy…"
5- Describing speed, difficulty, importance, etc.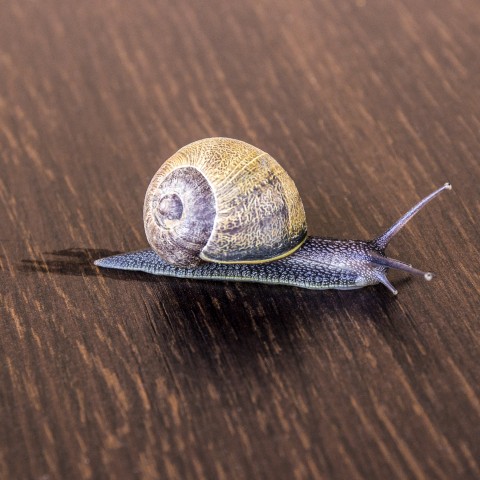 Sei veloce come un fulmine, o lento come una lumaca? ("Fast as a lightning or slow as a snail?")
rapido-veloce / lento — "fast" / "slow"

Il treno veloce va da Milano a Roma in 3 ore.
"The fast train goes from Milan to Rome in 3 hours."

facile / difficile — "easy" / "hard"

Sarà difficile da dimenticare.
"It will be hard to forget."

importante / inutile — "important" / "useless"

Non mi piacciono le riunioni inutili.
"I don't like useless meetings.
6- Describing colors
What would the world be without colors? We definitely need them in our lives, and we'll need to know all the colors in Italian:
Rosso — "red"

Bevo solo vino rosso.
"I only drink red wine."

Verde — "green"

Vorrei indossare le scarpe verdi.
"I'd like to wear the green shoes."

Bianco — "white"

Mi sposerò con il vestito bianco.
"I'll get married wearing the white dress."

Nero — "black"

Compila il modulo con una penna nera.
"Fill out the form with a black pen."

Giallo — "yellow"

L'arbitro ha estratto il cartellino giallo.
"The referee pulled out the yellow card."

Marrone — "brown"

Ho gli occhi marroni.
"I have brown eyes."

Arancione — "orange"

C'è una macchina arancione nel parcheggio.
"There is an orange car in the parking lot."
Note that while most of the colors are adjectives that need to show agreement with the noun they refer to, a few of them are invariable and don't change into masculine or feminine, singular or plural:
Rosa — "pink"

Perché le bambine si vestono di rosa?
"Why do all the little girls wear pink?"

Viola — "purple"

Il Colore Viola è un bellissimo film
"The Color Purple is a great movie."

Blu — "blue"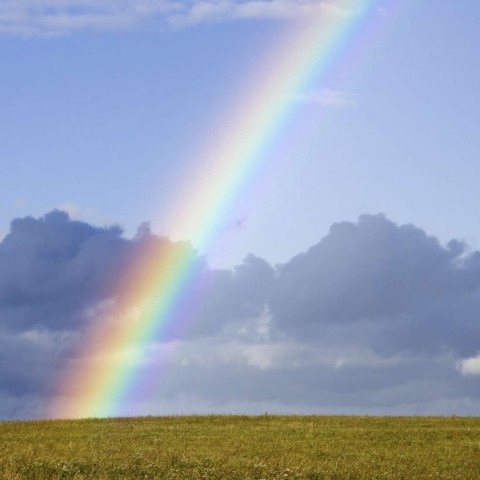 Rosso, giallo, verde… li sai i colori dell'arcobaleno? ("Red, yellow, green… do you know all the rainbow colors?")
And finally, colors come in all kinds of shades, so it's important to be familiar with chiaro (light) and scuro (dark).
For even more information on colors, check out our Italian colors vocabulary list!
7- Describing shapes
Adjectives that describe shapes are not only useful when we're studying geometry, but will also help us with describing objects in everyday life.
Rotondo — "round"

Il tavolo rotondo
"The round table"

Circolare — "circular"

Una economia circolare
"A circular economy"

Quadrato — "square"

Una cornice quadrata
"A square frame"

Rettangolare — "rectangular"

Un campo rettangolare
"A rectangular field"

Sferico — "spherical"

La palla è un oggetto sferico.
"The ball is a spherical object."
8- Describing weather
The weather is one of the most common conversation topics of all time. So, it's no wonder that there are a great number of adjectives to describe the weather. Some of the most common are:
caldo / freddo — "hot" / "cold"

Quest'anno ci sarà un inverno freddo.
"This year, there will be a cold winter."

soleggiato / nuvoloso — "sunny" / "cloudy"

Domani sarà una giornata nuvolosa.
"Tomorrow it will be a cloudy day."

umido / afoso — "humid" / "muggy"

Odio le estati umide.
"I hate humid summers."

piovoso / nevoso / ventoso — "rainy" / "snowy" / "windy"

L'autunno in Italia è molto piovoso.
"The fall in Italy is very rainy."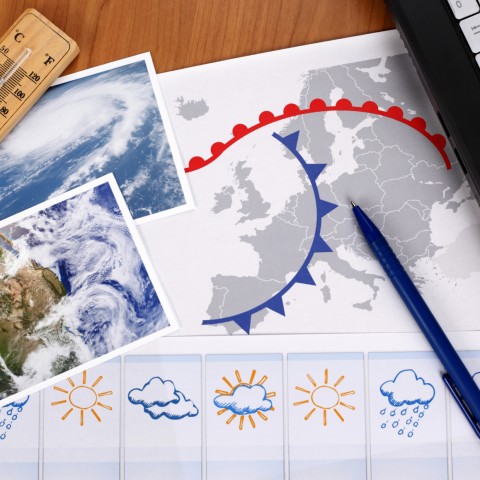 Piovoso? Soleggiato…? ("Will it be rainy? Will it be sunny?")
For more weather words in Italian, check out our fun and useful weather article!
9- Describing taste
Not only are Italians notoriously into eating good food…but they also love to talk about food. All the time! So if you want to participate in these conversations around the table, you better start practicing with essential Italian adjectives for describing tastes:
buono / saporito / gustoso — These are all synonyms to use when something tastes good!

Questa pizza è molto buona / saporita / gustosa.
"This pizza is very good."

Dolce — "sweet"

Quest'uva è molto dolce.
"These grapes are very sweet."

Salato — "salty"

Mangiare cibo salato non fa bene.
"Salty food is not good for you."

Aspro — "sour" as a lemon
Acerbo — "sour" / "unripe" as not ripe
Acido — "acidic" / "sour" as yogurt would be
Amaro — "bitter" (can also mean "unsweetened" )

Non mi piace il caffè amaro (senza zucchero).
"I don't like coffee with no sugar in it."

piccante / pepato

Do you prefer your food with "red pepper" (piccante) or "black pepper" (pepato)? In both cases, note that these adjectives are also used to mean the "sexy" kind of spicy!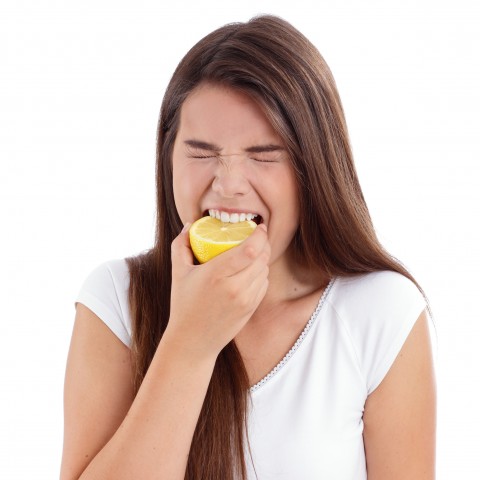 Aspro come un limone ("Sour as a lemon")
10- Describing situations
Adjectives describing situations will help you tell your Italian friends about what happened to you or to people you know. They are also going to be particularly helpful when describing a movie, a book or an event:
Divertente — "fun"

Imparare l'italiano con ItalianPod101 è divertente!
"Learning Italian with ItalianPod101.com is fun!"

Pericoloso — "dangerous"

Questa è una strada pericolosa.
"This is a dangerous road."

Interessante — "interesting"

Ho visto un documentario interessante.
"I saw an interesting documentary."

Noioso — "boring"

Durante il film mi sono addormentata: era proprio noioso!
"During the movie I fell asleep: it was really boring!"

Comico — "funny"

Totò era un attore comico.
"Totò was a funny comedian."
Do you want to practice? Try this little exercise: describe with as many adjectives as you can the last Italian movie you saw.
11- Describing physical traits or physical conditions
Let's finish this guide of the top 100 (and more) common Italian adjectives with a little pettegolezzo (gossip). It's just human to notice and comment on traits and conditions of our friends and acquaintances. Nothing wrong with physical descriptions, as long as we keep it respectful. So, let's have a little fun commenting on how people look, behave, and are dressed. What do you think…?
forte / debole — "strong" / "weak"

Va sempre in palestra e adesso è molto forte.
"He goes to the gym all the time and now he's very strong."

malato / in forma — "sick" / "healthy"
ricco / povero — "rich" / "poor"

È una famiglia molto povera
"It's a very poor family."

ordinato / disordinato — "neat" / "messy"

La tua stanza è disordinata?
"Is your room messy?"

Carino — "cute" / "pretty"

Mi piace quel ragazzo, è molto carino.
"I like that guy, he's very cute."

grasso / magro — "fat" / "thin"

I miei amici sono tutti magri… come fanno?
"My friends are all thin…how do they do it?"

elegante / malvestito — "elegant" / "sloppy"

Tua madre è una donna elegante
"Your mother is an elegant woman."
3. Conclusion
When talking to your Italian friends, your family, or colleagues at work, adjectives will enrich your Italian conversation and make you sound like a pro! But don't stop here. To improve even more, visit our site, or check out our apps and blog. And keep having fun learning with ItalianPod101! You'll be speaking like a native before you know it!
Before you go, drop us a comment using some of these Italian adjectives in a paragraph! You choose the topic. 😉
We look forward to hearing from you!
February 25, 2020
Maybe you don't know, but Netflix can be very effective for things other than binge-watching your favorite TV series until late at night or entertaining your kids on a rainy Sunday. You can learn new things with its hundreds of documentaries, discover the history of cinema thanks to the many great old movies in its catalogue, or even improve your Italian language skills.
You heard us right: Learn Italian with Netflix!
And as always, we at ItalianPod101 have got your back! Check out our guide to the best Italian movies on Netflix and Netflix Italian series, and discover how, while you learn Italian, Netflix can be right there to help!
Table of Contents
1. Italy and Netflix: A Love Story
Netflix loves Italy, that's for sure. For Netflix, Italy is a topic of great interest, and on Netflix, Italian content is available in abundance.
There's maybe one-hundred films, documentaries, and TV shows in its catalogue that are in some way linked to the Belpaese. But not all of them, of course, are Italian films. You can find many amazing American movies set in Italy, such as The Tourist or The Italian Job on Netflix, as well as several great Italian films or TV shows that you can watch in the original language to improve your grammar, listening, or speaking skills while you enjoy your time.
So what are the best Italian movies on Netflix now? What about the best Italian Netflix TV shows?
Since the Italian film industry isn't so well-known abroad, you may have a hard time finding them and selecting the most interesting ones. That's why we've created this comprehensive list of the best Netflix Italian series and the best Italian movies on Netflix.
2. Why Watching Italian Movies on Netflix Will Improve Your Italian
Mastering a language is a lot more than knowing its grammar. It's a process that's mostly achieved through the ears, and not through the pages. That's to say that listening is essential while you're learning a foreign language.
As humans, our language skills are largely oral. That's how we learn when we're toddlers, and as adults, things don't change much. We need to hear a language in order to become familiar with it and to master it.
But following a conversation in Italian in real life, on TV, or while watching an Italian movie in a cinema, can be very hard for beginners. That's where Netflix comes to help. It's convenient to learn Italian on Netflix because you can add subtitles, pause, and watch again any time you want. You can even watch Netflix with Italian subtitles so that you'll improve your listening, reading, and writing skills at the same time!
3. Italian Netflix List: The Best Italian Movies and Shows on Netflix
Let's begin! Here's a list of the best Italian movies and shows on Netflix, with recommendations and a little dictionary of the most common terms you'll hear while watching them.
1- Suburra (the Series)
A gloomy atmosphere, dangerous intrigues, mafia, corrupt politics, and much more in this Italian series on Netflix about the dark side of Rome. It was the first Netflix Italian series (even if Netflix wasn't the only producer), and was directed by the great actor and director Michele Placido.
Who should watch it: This Netflix Italian series is perfect for thriller and noir lovers who are willing to explore Rome far from the Dolce Vita stereotype. Moreover, the facts portrayed in the series are inspired by real events involving the Roman mafia. A great Netflix Italian crime drama.
Who shouldn't watch it: People who don't like profanity or violence in movies.
Language: The series features many expressions from Central Italy and Roman dialect, and the dialogue can be hard to follow. We recommend watching this Italian series on Netflix with English subtitles at first, and then Italian subtitles!
Dictionary:
Impicci: a Roman term for "criminal deals"
Terreni: "plot of land"
Un sacco di: "a lot of"
Torcere un capello: "to hurt someone"
Sindaco: "mayor"
Ammazzare: "to kill"
2- Cinema Paradiso
Cinema Paradiso (or Nuovo Cinema Paradiso, as in the original title) is a wonderful film from 1989, that won both the Grand Prix in Cannes and the Best Foreign Movie Academy award. It's a sweet, melancholy story about a poor kid falling in love with cinema in his little Sicilian village just after World War II.
Who should watch it: Anyone who loves cinema, as well as music enthusiasts. The unforgettable soundtrack was written by Ennio Morricone. Wonderful Italian Netflix drama.
Who shouldn't watch it: People who only enjoy watching action, horror, or thriller movies.
Language: Local expressions from Southern Italy are common, and subtitles might be necessary.
Dictionary:
O' capisti?: Sicilian expression that means "Did you understand?"
Picciriddu: Sicilian term for "little child"
Vattinni!: Sicilian term for "Go away!"
Cabina: "projection booth"
Cinematografo: an old term for "cinema"
Pellicola: "film"
3- Like Crazy
Like Crazy (or La pazza gioia in Italian) is a funny and moving Italian Netflix film about friendship and mental health. Created by the director Paolo Virzì, starring the famous actresses Valeria Bruni Tedeschi and Micaela Ramazzotti, it tells the story of two women meeting in a mental health institution and running away together.
Who should watch it: People who love friendship stories or are interested in the topic of mental health.
Who shouldn't watch it: It's a moving yet entertaining movie, recommended for anyone.
Language: Some local expressions from Tuscany. Subtitles might be recommended for beginners.
Dictionary:
Felicità: "happiness"
Triste: "sad"
Matta: "crazy"
Pazza: "crazy"
Fare la corte: "to court"
Meno male: an expression meaning "Thank God" or "luckily"
4- Life is Beautiful
The most famous film by Roberto Benigni, and one of the best Italian movies on Netflix, is a story about resistance and love. Winner of Best Foreign Film Academy Award, Life is Beautiful (or, in Italian, La vita è bella) is a film about the Shoah and the love of a father protecting his child from the horror of the concentration camps.
Who should watch it: When it comes to Italian films on Netflix, this one is perfect for anyone interested in history or who simply enjoy a moving story about love, family, and fantasy.
Who shouldn't watch it: Some people consider it to be too sugary.
Language: A few local expressions from Tuscany. Subtitles might be recommended for beginners.
Dictionary:
Buongiorno, principessa!: "Good morning, princess!"
Sognare: "to dream"
Ebreo: "Jew"
Attenzione!: "Attention!"
Campo: "camp"
Fame: "hunger"
Nascondino: "hide-and-seek"
5- The Mafia Kills Only in Summer
This 2013 film is directed by Pierfrancesco Diliberto, known as Pif. It's one of the few films by an Italian comedian on Netflix. But it's not simply a comedy; it's also a story about the bloody years between the seventies and the nineties in Palermo. Funny yet informative, it runs through the life of a boy growing up to be a journalist, and living through a sequence of paradoxical and dramatic events.
Who should watch it: People interested in Sicily or the mafia, or those who are simply looking for a funny and but deep film about Italy's recent history.
Who shouldn't watch it: If you're looking simply for an Italian comedy, Netflix shows like this one might not be the best choice for you.
Language: Some Sicilian expressions. Subtitles might be recommended for intermediate students.
Dictionary:
Innamorato: "in love"
Sbirro: slang expression meaning "policeman"
La belva: "the beast"
Maxiprocesso: literally, it means "mega-trial" and it's a term used for the huge mafia trial that was held in Palermo between 1986 and 1992, involving hundreds of indicted.
Fimmine: a Sicilian expression for girls or women
Uccidere: "to kill"
6- Fire at Sea
One of the best Italian films Netflix has, Fire at Sea (Fuocoammare in Italian) is a film about the tragedy of migrants crossing the Mediterranean Sea, and about the doctor taking care of them on the little island of Lampedusa. Directed by Gianfranco Rosi, it won the Best Film Award at the Berlin Film Festival. This is an important documentary about one of the key events in the contemporary Italian—and European—history, and a human tragedy that no one should ever forget. Most of all, because it's still happening.
Who should watch it: People willing to be informed about the migrants' travels in the Mediterranean.
Who shouldn't watch it: The reality this film portrays is hard, but everyone should watch it.
Language: Some of the dialogue can be hard to follow and subtitles might be recommended.
Dictionary:
Naufragio: "shipwreck"
Soccorso: "rescue"
Profugo: "asylum-seeker"
Barca: "boat"
Marinaio: "sailor"
7- Welcome Mr. President
Following a series of unfortunate events, Giuseppe Garibaldi—a common man with the same name as the Hero of the Two Worlds—is elected President of the Republic and he'll have to deal with the well-known corruption of Italian politics. The original title of this 2013 film is Benvenuto Presidente!, and it's another film with an Italian comedian on Netflix (Claudio Bisio).
Who should watch it: People looking for an Italian comedian on Netflix to improve their Italian while they enjoy a light, entertaining movie.
Who shouldn't watch it: Suitable for every audience.
Language: Medium-easy language.
Dictionary:
Presidente della Repubblica: "President of the Republic"
Onorevole: a title for congressmen and senators
Dimettersi: "to resign"
Corruzione: "corruption"
8- Palio
This documentary portrays the deeply felt tradition of Siena horse-racing, the most ancient horse competition that's still running. Even though it was a UK production, its interviews and dialogues are in Italian.
Who should watch it: A must-watch for people who love Tuscany, traditions, or horses.
Who shouldn't watch it: People very sensitive to animal mistreatment, since horses can get injured during this difficult race.
Language: The local Tuscan accent can be pretty strong and hard to understand for beginners.
Dictionary:
Cavallo: "horse"
Corsa: "run"
Contrada: the ancient word for "neighbor"
Fantino: "jockey"
9- On My Skin
On My Skin (Sulla mia pelle) is a disturbing yet important movie about the shocking death of Stefano Cucchi, a 31-year-old man who died in custody following a series of abuses by the Italian police.
Who should watch it: People interested in recent Italian history.
Who shouldn't watch it: Highly sensitive people; people looking for a light, entertaining film.
Language: Some Roman slang.
Dictionary:
Arresto: "arrest"
Carcere: "jail"
Avvocato: "attorney"
Giudice: "judge"
10- Leopardi
Leopardi (Il giovane favoloso) is an award-winning film celebrating the character and genius of one of the most important Italian poets. Elio Germano, one of the most talented young actors in Italy, plays the main role.
Who should watch it: Poetry-lovers and people who enjoy period films.
Who shouldn't watch it: The film is quite slow and contemplative, as was the poet, so it's not suitable for those who love action films.
Language: The language can be complex, so subtitles are recommended.
Dictionary:
Fanciullezza: uncommon term for "youth"
Pessimismo: "pessimism"
Amicizia: "friendship"
Gloria: "glory"
4. Learn Italian at Your Pace with ItalianPod101
In this article, you read up on some of the best Italian Netflix movies and shows, and learned how you can use them for your benefit when learning Italian.
With ItalianPod101, you'll be able to study and learn Italian at your own pace, anytime and anywhere you want. Your long working hours or busy days won't stand in the way anymore, since you'll be able to have your lessons, videos, and articles always with you thanks to our amazing apps. Enjoy the best way to learn Italian and talk with other students from all around the world in our forum, where you can exchange experiences or share your questions and doubts regarding this beautiful language.
Ready to watch Italian Netflix? Before you go, let us know which of these Italian movies on Netflix or Netflix series you want to see first! We're curious. 😉