In Italian, it is said that "anything goes during Carnival."
Some countries simply feast to their heart's content during Carnival, the holiday just before the Lent period of fasting. Others participate in lots of dancing. Some countries hold to more religious celebrations.
But in Italy, this is a time of Masquerades and rule-breaking—in addition to feasting and other merry activities.
Let ItalianPod101.com show you all the unique facets of Italy's Carnevale!
1. What is Italian Carnival?
Many aspects of the the content and nature of the current Carnival—such as Saturnalia—can be easily traced back to their ancient Roman origins. As for the etymology of the word Carnival, it most likely derives from the Latin expression carne levare, which means "eliminate the meat." This makes reference to the religious practice of abstaining from meat during the period of Lent.
During the Carnival, Italy allows everyone to eat at will, and above all, break the rules, while wearing a mask (maschera). The Italy Carnival season is truly a unique feature of the country's culture, and in this article you'll learn how Carnival is celebrated in Italy.
2. Italian Carnevale Date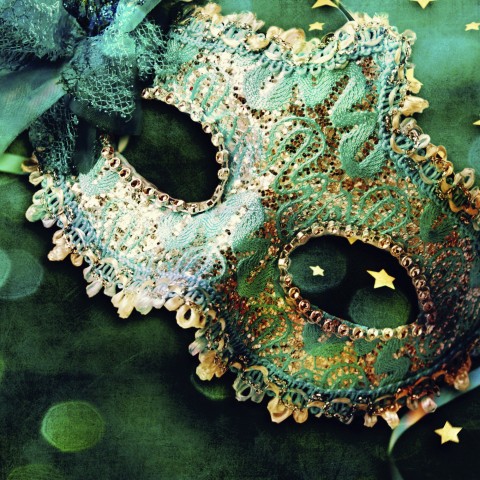 The date of Carnival in Italy varies each year, as it depends on the date of Easter. For your convenience, here's this holiday's date for the next ten years:
2019: March 4
2020: February 24
2021: February 15
2022: January 31
2023: February 20
2024: February 12
2025: March 3
2026: February 16
2027: February 8
2028: February 28
3. How is it Celebrated?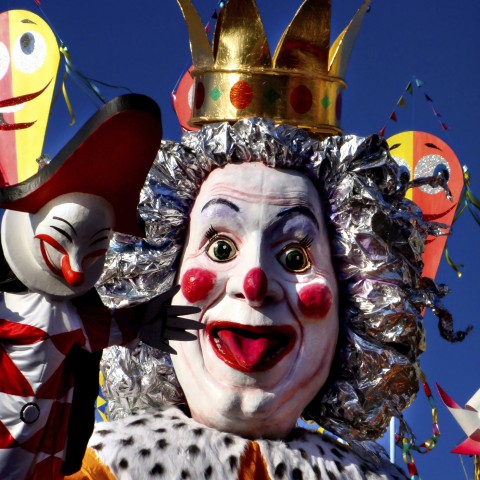 Today in Italy, this holiday is primarily a festival for children, but Carnival in Italy's history
was a festival especially for adults. The rule of the Carnival is that you have to break the rules and do everything that is normally prohibited during the year. This is where the custom of masquerade originates—so that those who break the rules cannot be recognized.
The typical dishes of Carnival are sweets, one of the most popular being the chiacchiere made of sugar-coated fried pastry.
In Italy, there are various mask traditions that began many centuries ago and are well-known all over the world today.
Among the most famous is Harlequin, a mask from Bergamo, and Pulcinella, a typical mask of Naples. Both Harlequin and Punchinello represent clever servants, always ready to play a joke on their master. Both of these masked men are the symbols of the revenge of the servants on their masters.
Even though the Carnival takes place in winter, there are many events that are held outdoors. Italians, both adults and children, are very fond of attending the parades of the allegorical wagons, which are huge papier-mâché wagons representing traditional masked men or famous public figures in an ironic manner.
However, the Carnival of Venice may be the most famous of the Italy Carnevales, because of its particular beauty and the sophistication of its masked men, of which everyone has seen a picture at least once.
4. Reading Practice: Oranges!
Read the Italian text below to learn about another fascinating aspect of Carnevale in Italy (you can find the English translation directly below it).
—–
Sapete perche' a Carnevale piu' di duecentocinquantamila chili di arance vengono portati nella citta' di Ivrea, in provincia di Torino?
Perche' tra i riti del Carnevale c'e' anche la battaglia delle arance, durante la quale i partecipanti si tirano le arance addosso.
—–
Do you know why, during Carnival, more than 250 kilos of oranges are brought into the city of Ivrea, in the province of Turin?
It's because one of the rituals of the Carnival is the battle of the oranges, during which the participants throw oranges at each other.
5. Must-know Vocab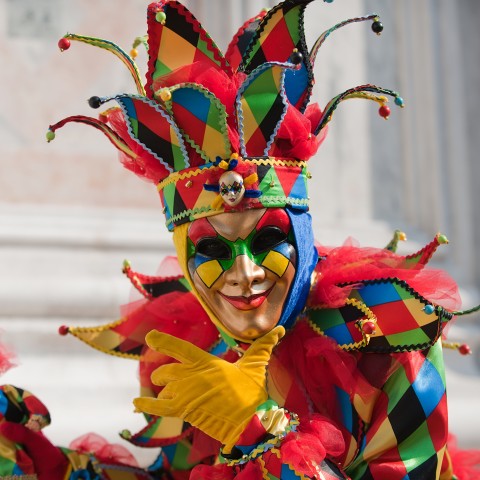 Here's some vocabulary you should know for Carnival Season in Italy!
Carnevale — "Carnival"
Maschera — "Mask"
Costume — "Costume"
Scherzo — "Joke"
Festa — "Celebration"
Mascherarsi — "Cloak"
Arlecchino — "Harlequin"
Chiacchiere — "Chiacchiere"
Carro allegorico — "Float"
Sfilata — "Parade"
Quaresima — "Lent"
If you want to hear each word's pronunciation, visit our Italian Carnival vocabulary list. Here you'll find each word accompanied by an audio of its pronunciation.
Conclusion
What do you think about Carnevale (and Italy's Carnival masks)? Do you celebrate Carnival in your own country, or a similar holiday? Let us know in the comments!
To learn more about Italian culture and the language, visit us at ItalianPod101.com! We offer an array of insightful blog posts, free vocabulary lists, and an online community to discuss lessons with fellow Italian learners. You can also check out our MyTeacher program if you're interested in a one-on-one learning experience with your own personal Italian teacher!
We hope you enjoyed learning about Carnival season in Italy with us. Continue delving into Italy's culture and practicing your language skills, and you'll be speaking like a native in no time!