Create, Study & Share Your Italian Lists With Others!
The Custom Lists Mobile Web App (Beta Version) is your own collection of vocab lists to study and master. You get to create your own word lists for future review. Or if you want some ready-made lists, simply browse and grab lists created by other users, or default lists provided by ItalianPod101.
Accessible on any browser on any device. PC, Mac, Android, iPhone, or Tablet.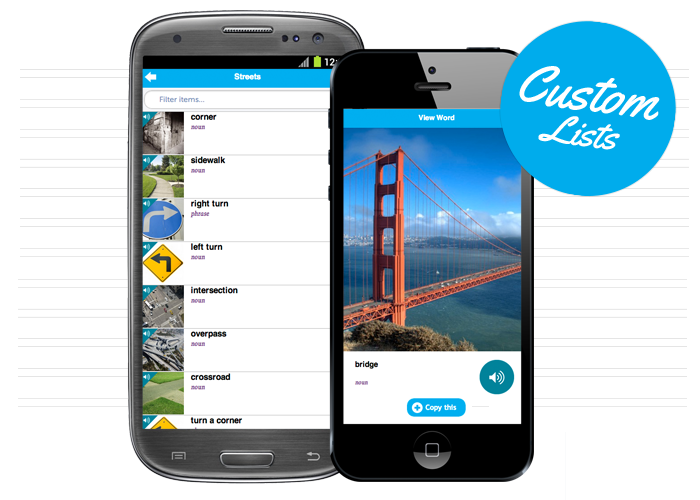 And it's a non-stop source for new Italian words. Other Italian learners are creating their lists and adding words, which you can take advantage of through the Discovery or Word Feed sections.
With Custom Lists you can…
Create new lists and add your own Italian vocabulary
Add pictures to your entries with a camera functionality
Listen to the audio pronunciation that comes with many words (and we're adding more all the time!)
Browse, steal or just get "inspired" by other users' custom lists using Discovery
See the most recently added words by other users in Word Feed
Access ready-made default lists provided by ItalianPod101
Learn on the go and access the mobile web app on any device and browser
Track your progress and the number of words you've added
Multilingual & available for all 31 Innovative Language Sites!
Use your ItalianPod101 login details to sign in.

Custom Lists is open to all ItalianPod101 Premium and Premium PLUS users!
Simply visit http://customlists.innovativelanguage.com on your computer or mobile device. If you're an iPhone or iPad user, make sure to save it to your home screen.
Let us know of suggestions and recommendations, as well as bugs and glitches. Shoot us an email at customlists@innovativelanguage.com.